VOTE FOR THE LESSER OF TWO EVILS.
Is this the best way to elect leaders?

PLEASE NOTE - THIS SITE WAS CREATED IN JANUARY 2014 - AND IS IN THE PROCESS OF UPDATES.
NOTE that ONLY the HOME link and PLATFORM link have been activated.
(the CLICK HERE link to the left)
You know it, I know it, and almost everyone around us knows it. It is time to have a viable alternative party of the people and by the people to put what most grandmothers in this country would call "some plain old common sense" back into our government.
The Common Sense Americans Party
AT THE VERY LEAST WE WANT YOU TO BE INFORMED AND INVOLVED:
• Check out candidates websites to see their offical viewpoints. Don't rely on newscast "talking heads" or web site feeds with no documentation.
• Challenge them with serious respectful questions. Call them. Inquire. If you don't get serious answers - keep at it. If you still do not get a serious response - DON"T vote for them.
• Want to eliminate big dollars influencing elections? Don't watch the plethora of bias, negative attack ads on TV! Television is where the majority of campaign dollars go. Superbowl advertisers pay big bucks because so many people watch the game. If NOBODY watched the game their money would be wasted. And they would pull the ad dollars.
• If you agree with most of our platform statements compare them to other candidates. Don't look for all of them to agree but it will give you a benchmark for decision making.
• Polls and commentators seem to want to make politics into a game. Who's in the lead at halftime? Who has more money? What are the candidates odds? Trivial statistics. This sort of thing belongs in sports - not politics.
• Be wary of politicians who pander to the polls. They stand for what they think you want to hear. Also candidates that make outlandish promises. They sound good but cannot be delivered. Which candidates have learned the art of compromise and change to actually accomplish something?
• Most importantly: LISTEN to other views. You may not agree initially but then again you may change a view or at least understand why someone else has that view. This applies to conventional and social media sources. A change of mind based on investigation and reasoning is not flip flopping.
• Avoid and discourage angry, vitriolic, vulgar and profane rants on social media. They serve no purpose than to inflame and alienate. Take everything you read and see with a large grain of salt - Cross reference and verify sources of "information", quotes and statistics.

WHAT WE ARE NOT:
- We are not another PAC

- We do not want nor will we accept any money. If you send it, it will be sent back or thrown away.

- Hard line, zealous Tea Partiers, flaming liberals, or anyone else with an "agenda" need NOT apply. Nor do we need any career politicians.
WHAT WE ARE AND WHAT WE NEED:
Theultimate goal here is to form a truly INDEPENDENT party formed and run by common sense driven Americans who are tired of the "choose the lesser of two evils" two party system we have now.

We can all REGISTER independent, but right now there is no really independent party.... a real alternative to protest votes for green party, or libertarian candidates or funny little Texans with hand done charts and graphs. (but even he got 19% of the popular vote)
WHAT WE NEED:
- People of similar beliefs in common sense to be willing to get involved instead of just sniping and complaining
- People from all walks of life willing to put a little effort into this grass roots start through networking and social media.

You KNOW the technology is already here. It is time to use it for something important!
Only today could this idea be possible. Internet communications make getting things done from the comfort and privacy of your own home a reality.
E-mail, blogs, websites, tweets, twitters and who knows what else is right around the corner.
Social media is changing the world. In 2011 Facebook had 750 MILLION users... today there are over one BILLION Facebook users.
We think it is time to use these options for something in addition to personal communication, keeping in touch or rants.
To send suggestions or to get involved, click on one of the the link buttons at the top of this page.
From there you can click the e-mail button to contact the administrator.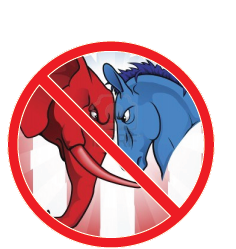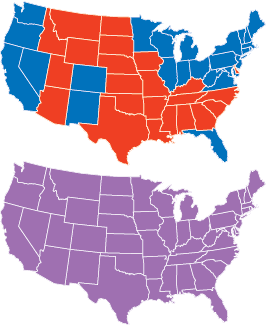 Our two party system isn't working in our best interests. Heck, it is barely working at all. Both sides are too busy trying to get on top, get re-elected and get the power in their hands.
Right now the political divide is deep.
Red vs blue all across the country and we are getting nowhere... fast.
Our goal would include people actually listening to each other much like Voltaire whom is broadly quoted as saying:
"I may disagree with you but will defend to my death your right to disagree with me."

(this of course, is not his exact quote but much like "Play it again Sam" it has been commonly accepted.)
COMPROMISE
LEARN TO SHARE
BE CIVIL
NO HARD RED - NO HARD BLUE.
just purple as we work together with common sense to help our country move forward in a mature and caring manner.
------------------------------
This site contains much feedback and editing by a groups of contributors from all sides of the age and political spectrum.
If you want to contribute ideas
please e-mail them to
customerservice@myfambly.com

BUT include Common Sense in the heading.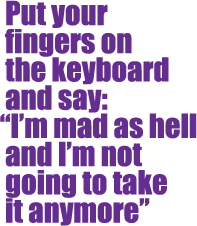 These are some of the issues we have in our preliminary platform statement.
to see more details:
CLICK HERE
---------------------------
GOVERNMENT REFORMS
- Term limits

- One subject legislation

- New laws should have a time limit.

- Eliminate all government perks and pensions.

- Eliminating Corruption
- Paid Lobbyists
ELECTION REFORMS
- Ban or regulate all TV, print media and radio ads. Especially negative "attack" ads.

- Hold Federally funded debates

- Substitute political ads with a national and local election channels
BUDGET/FINANCE

- Create cabinet level position to eliminate redundant and out dated departments.

- Require the Executive branch to send a balanced budget to congress for approval EVERY fiscal year.

- Close tax loopholes for corporations, non-profits and PACs

- Cut costs including internal waste and largesse.
- Simplify the tax code.

- Restrict the power of the IRS

- Print currency only to replace currency turned in for destruction.
--------------------
also:
IMMIGRATION REFORM

FOREIGN POLICY
ENVIRONMENT
GUN CONTROL

DRUGS
RELIGION
SOCIAL
------------------
This is just a base starting point. We need YOUR help!
------------------------
This site contains much feedback and editing by a group of contributors from all sides of the age and political spectrum.
If you want to contribute ideas please e-mail them
BUT include Common Sense in the heading.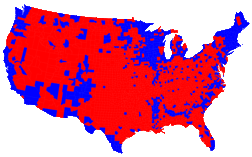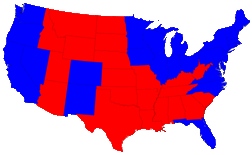 This graphic shows the divide
by county instead of the usual
electoral college election night
state format.

As you can see the divide is driven greatly by urban vs. rural/small town areas of the country.

Sound dumb? We agree.
Enough is enough.
WE see it. We read about it.
A vote for the status quo
is a vote for this.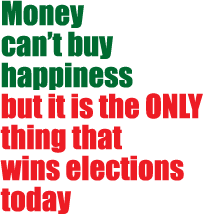 Big money contributors expect and get what they pay for.
And paid lobbyists don't spend big money just because they believe in a politician.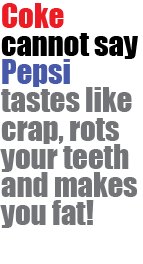 Networks and the FCC do not allow this for commercial advertisers. True or not. Negative campaigns are filled with half truths and out and out lies. Politicians ARE selling a product: them and their party. And they get paid plenty and get a lot of perks when in office. This needs to stop.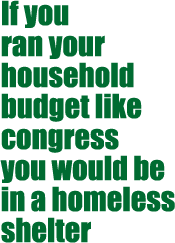 If you fear for the financial future of your children and grandchildren it is time to stop "kicking the can down the road."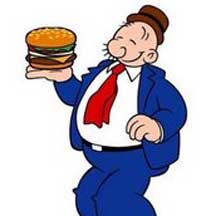 "I shall gladly pay you Tuesday, for a hamburger today"

-- the famous line from Popeye's pal J. Wellington Wimpy, which has apparently been adapted to our fiscal practices.
-----------------------------------

BOTH parties are to blame for our deficit. And their "solutions" are just nibbling at the problem. Their way is as if you made $4,000/month ($48,000/year) and your bills amounted to $5,000/month so you cut back your cable TV service to basic plan only. That won't solve the problem...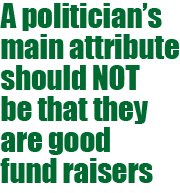 But many are in office because they are...