Like many, I grew up on western movies and TV shows. Gunsmoke, She Wore a Yellow Ribbon, Stage Coach and and endless stream of Hollywood productions. The good guys and bad guys were almost always clear cut...
Hollywood had us thinking that a handful of US cavalry outfought hoards of savage indians. Modern revisionist history would have us believe that the indians were all good and peaceful but were brutalized by the evil white man.
I believe the truth is someplace in the middle.
The trading post has been an ever expanding settlement with new figures and accessories from a wide variety of sources. Original Marx playsets, Blackhawk and Del Prado figures and recently some very nicely sculpted pieces from the Ukrane.
Backgrounds have been added in photoshop of course from a wide variety of authentic Arizona and Utah locations.
------------------------------
The figures were either purchased or assembled and or modified from kits and then hand painted.
The vehicles were either purchased assembled or assembled from model kits.
The buildings also were either assembled from models or fabricated from lego's, cardboard, leather, mastic and grout.
All the elements are made to look weathered or dirty and no attempt was made to paint eyes, beards or other minute details that tend to made military miniatures look like mannequins or toys.
If you notice also the same props and sets accommodate many diffent views.
I hope you enjoy looking at these as much as I do making them and maybe get a little look at historical context along the way!
Click HERE to return to main page.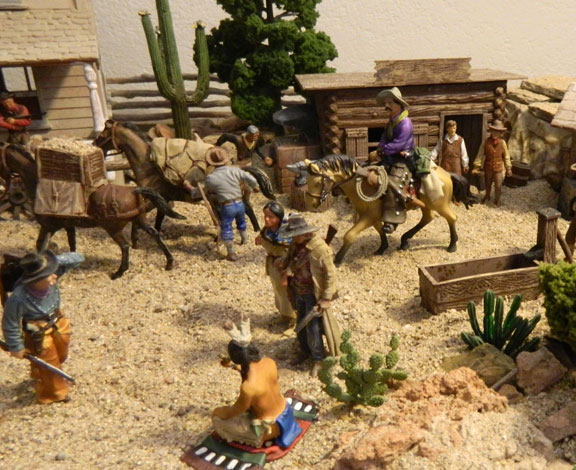 A passing cowboy gets the "look see" from locals emerging from the workshop.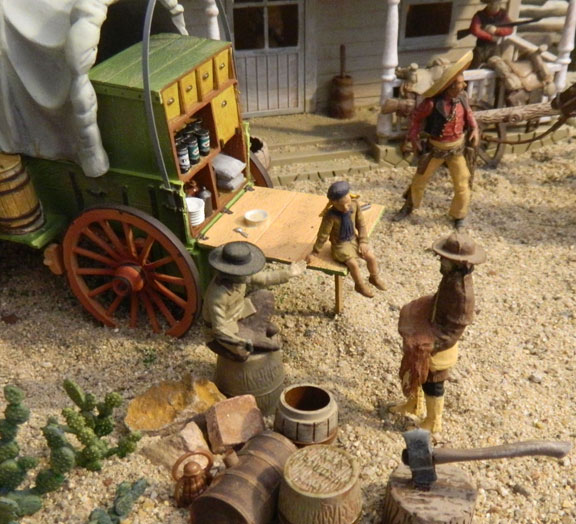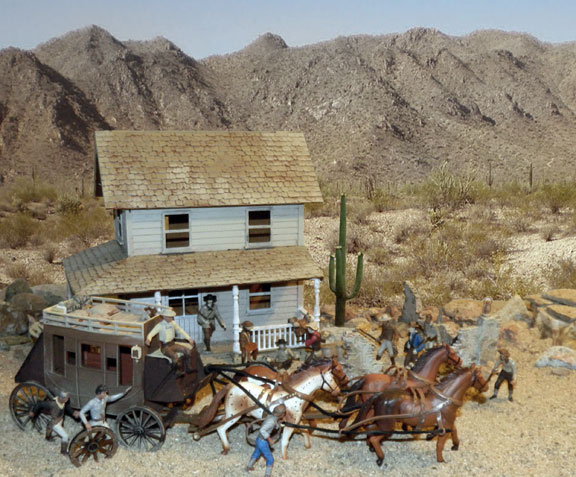 A variety of figures and props were used for this stagecoach way station.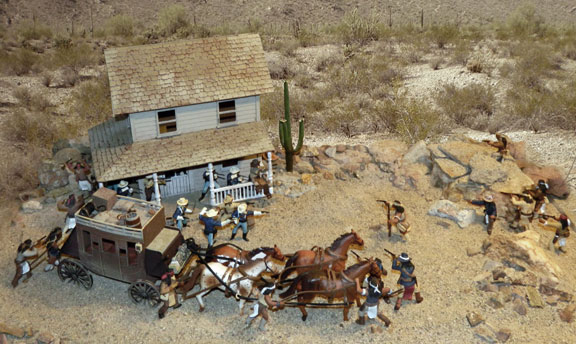 why my mail is sometime late? ... a small group of US Cavalry and a couple of scouts defend the stage way station.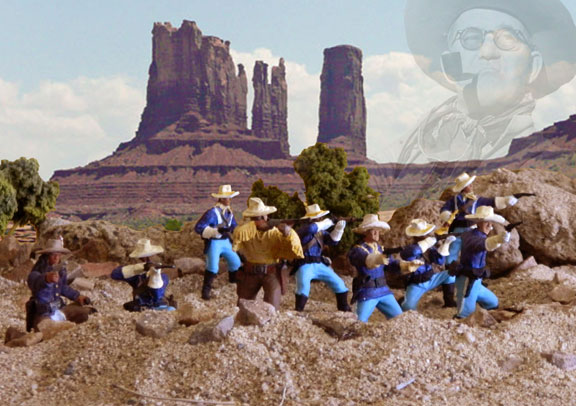 "holed up at the river crossing"... a tribute to John Ford who directed so many classic westerns and made John Wayne a star. Here he appears as a scout in fringed buckskins....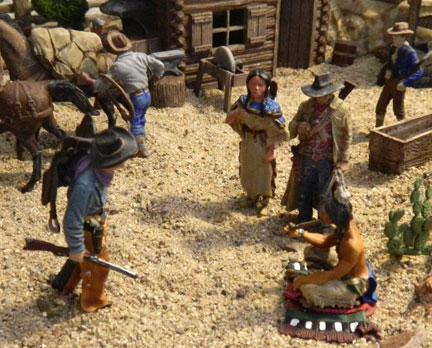 A cowboy heading out to saddle up stops to chat with an hombre and his woman and a pipe smoking indian.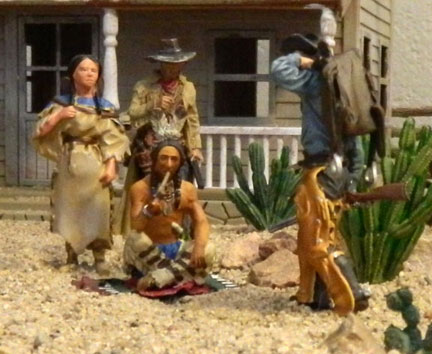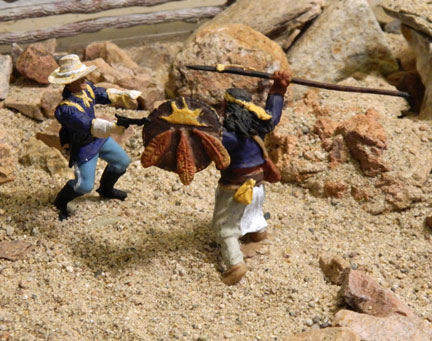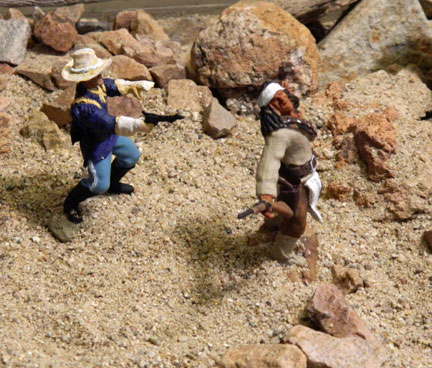 how it is often depicted in old movies...
and how it was more likely.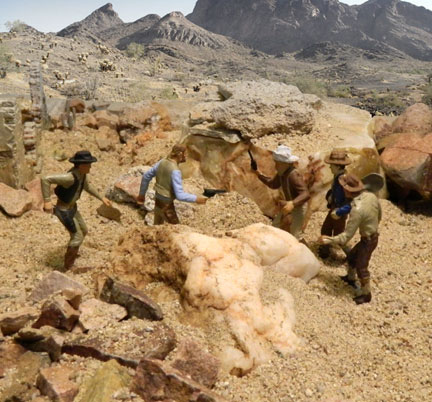 a couple of miners are "relieved" of their hard won goods at gun point...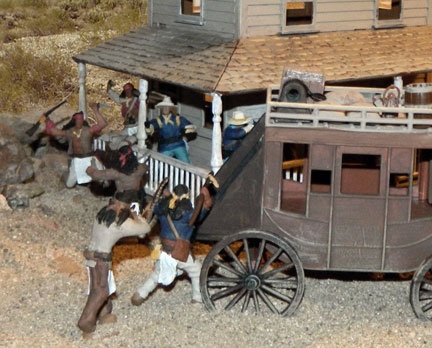 Click HERE to return to main page.
The Old West: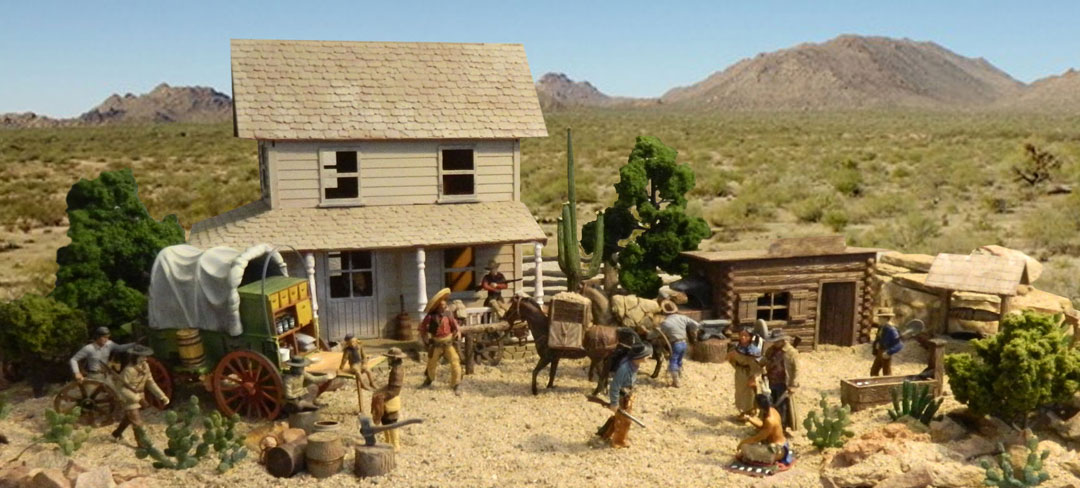 The trading post expands. The beginning of a new settlement in Arizona territory. The trader is still dickering with passing trappers, but a work shed has been added with a black smith shop. A well has been dug. Miners, Indians and cowboys pass through as well as a couple of more dangerous looking fellows.


The sheriff keeps a close eye on the goings on as it seems there may be trouble brewing about the pack horses. The Mexican figure was actually sculpted in the Ukraine. I painted him thinking of Calvera, the character in the Magnificent Seven played by the late great Eli Wallach. The rest are a mix of old Marx plastic re-issues and Black Hawk miniatures. The building are also a mix of sources.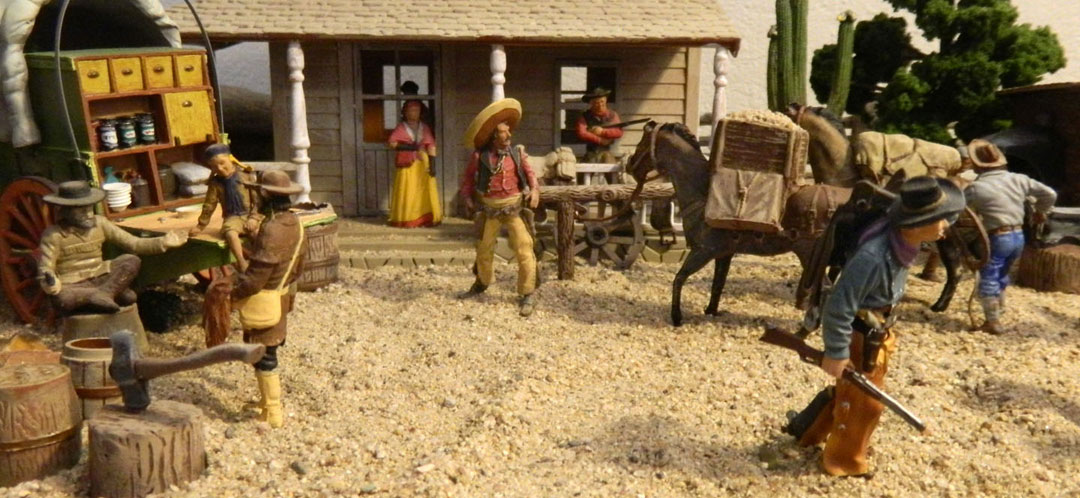 Dallas, the saloon gal steps out on the porch, hesitating to see what is happening with the fellow in the sombrero!

STAGECOACH 2015 - borrowed from the classic movie Stagecoach (1939 & 1966): The Ringo Kid, toting his saddle hails the coach. Marshal Curley has the situation well in hand as well as his rifle. Meanwhile the preacher quotes scripture as Dallas the saloon gal, a U.S. military officer and a gambler check things out for themselves. Buck hangs onto the reins!


Ash Fork Arizona - 1883 - The background is near my property in present day Ash Fork. The lady of the cabin welcomes returning miners while her man get a new horse shoe ready for the anvil.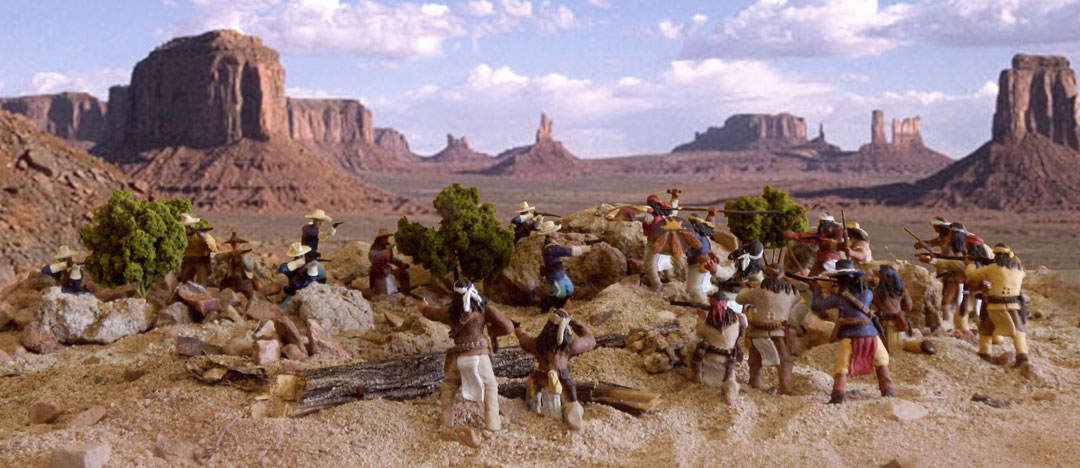 A John Ford inspired scene... dismounted US cavaly under attack - and a tribute to John Ford who directed so many classic westerns from Stagecoach in 1939, She Wore a Yellow Ribbon, Fort Apache and the classic The Man who shot Liberty Valance. Monument Valley in Utah was one his favorite locations. Many stars stayed at the El Rancho Hotel in Gallup, NM. It is still in business and has memorabilia of the many stars who graced its rooms.

"Stand and Deliver!" .. the stage is held up! - note the saguaros, cholla's and other abundant Arizona cacti in the background. Now how many times has this been portrayed in western movies?