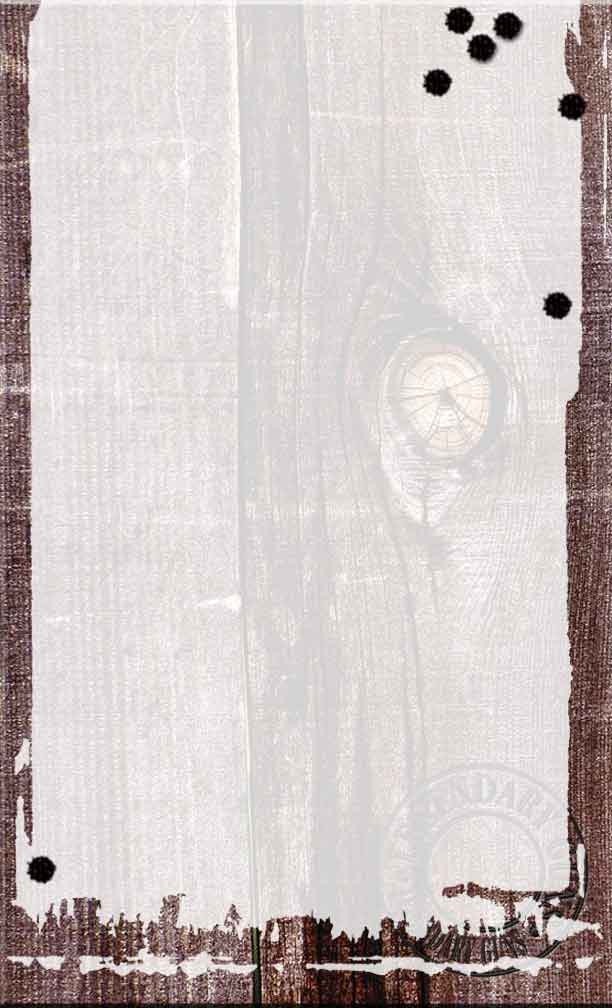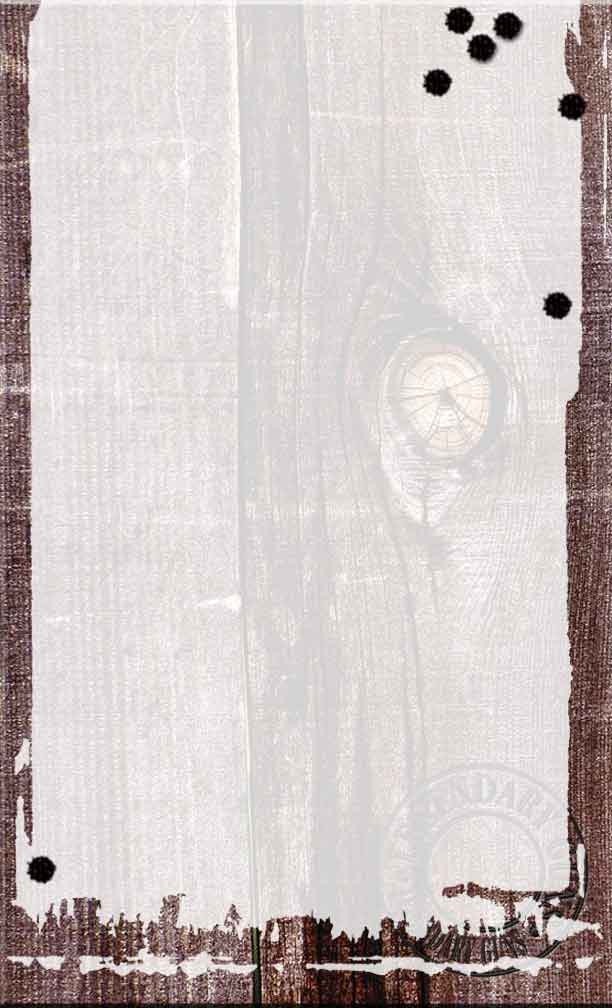 Cowboy
on the Range Way™ Holsters





click on above for more information.

e-mail:
customerservice@myfambly.com

NOTE:
I almost always return e-mails within 24 hours.
IF you do not get a response:
CHECK YOUR SPAM FILTER!
I have had some send repeated
e-mails and wonder why
I haven't responded.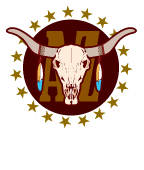 New
Western art by the Old Gringo.
High resolution digital files can be printed yourself on your ink jet or laser printer or by Kinko's, Staples, Office Max, Fast Signs or similar sources. Prints can be made on canvas, banners, board or a variety of other materials depending on your preference and budget.
Select original oil paintings are still available.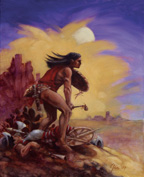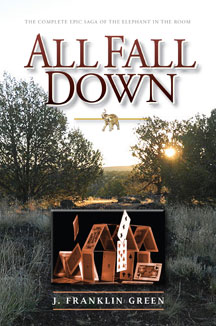 www.jgreenbooks.com
Adam Barthold is a deeply flawed man haunted by the mysterious Arahm Tuit. He travels from upstate New York to the hills of Ash Fork, Arizona where he hopes to start a new life but instead finds love, danger and watches the world come tumbling down in red ruin, little knowing he has an important part to play in the future of human kind. Years later, the survivors are again threatened from the east across "the waters that never end" by a civilization that didn't learn from the cause of the fall. Oneonta must pick up where Barthold, Tibbs and others left off in a life and death struggle. Above all, it is a story of failure, recovery, struggle, courage, sacrifice, profound love, inter-racial relationships and loss, laced with a tinge of mysticism and the unknown across the void of countless years.
348 pages/illustrated


for more sample holsters click above link!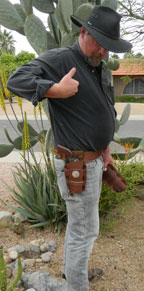 on the belt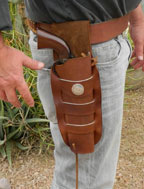 the "hog leg"

quality materials
hand crafted


The most common gun types I make holsters for:
1. Single action Colt (and clones) revolvers 4 3/4 - 8" barrels (base Cowboy on the Range Way design)
.38 - .357 - 45 - .44 calibers
2. Ruger Single Six type Single action .22 caliber revolvers 4 3/4" - 6" barrels
3. S&W K frame size double action revolvers 2"-6" barrels
.38 - .357 - .45 calibers
4. S&W J frame size double action revolvers 2"- 4" barrels
.22 - .38 - .357
5. Bersa Thunder - Walther PPK, Makarov size
.380 - 9mm caliber
6. Browning Hi Power - CZ 75 - Colt 1911 (and clones)
9mm - .45 acp
7. Ruger Bearcat .22 caliber 4"
8. S&W 5906, SD9, Glock 17, Ruger p40 and similar size automatics 9mm - .45 acp
9. S&W Governor/Taurus Judge 3" .45 long colt/.410 shotshell
TESTIMONIALS:

"I received the holster today, what a beautiful holster, This is
definitely the best looking and made holster I have, It fits great,
looks great, it is great.
Thank you,"
Anthony - Massachusets
HI JOHN,
"I JUST WANTED TO LET YOU KNOW MY HOLSTER ARRIVED TODAY.I BOUGHT THE"MORGAN EARP"FROM YOU ON EBAY.IT'S FOR MY RUGER BLACKHAWK 357,IT HAS REAL STAG HANDLES AND NEEDED A GREAT HOLSTER,AND THATS WHAT IT HAS NOW! I PUT THE RIG TOGETHER AND SHOWED MY WIFE,NOT A GUN PERSON BUT SHE STATED,"THATS BADASS"!! IT SURE IS. ALL THE EARPS WOULD BE PROUD AND JEALOUS!!
I JUST WANTED TO LET YOU KNOW HOW GREATLY PLEASED I AM. YOU SIR,ARE "THE MAN"
IF YOU EVER MAKE A 357 CARTRIDGE BELT,I'LL BE THE FIRST IN LINE.
THANK YOU FOR YOUR TIME AND A GREAT HOLSTER."
SINCERELY,
RONALD GRANT
NORTH CAROLINA
John,
Got my holster today. ABSOLUTELY the best thing I have ordered. My Bersa fits perfect. Love the design, the looks and feel. I can't thank you enough. I will show and tell every one I know about your holsters and web sight. My brother just bought 2 Bersas last month, he will be the first.
Thanks again
Tim - Colorado
Holsters arrived today. I have to say you are truly an artist. I couldn't be more satisfied. They both fit my single action revolvers like a glove. I love them both but for different reasons… The simpler, Texas Star embellished, heavy belt leather holster I like because of the leather himself. That is really nice stock. The other one, the "sword ", I like because it's just nice to look at. Functional, but pretty (kinda like my wife). Very satisfied. -
Steve -Texas
For more, be sure to check my ebay feedback. Just do a member search for ccolleague6722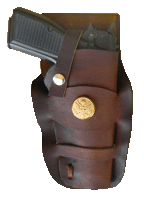 Versatile fitting. This rig is custom made for a Browning Hi Power 9mm. Brass snap side retainer and authentic US military button concho.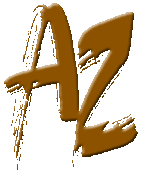 Made in the USA
© 2016 myfambly.com
www.myfambly.com




Our friends at: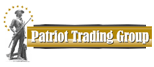 Patriot Trading Group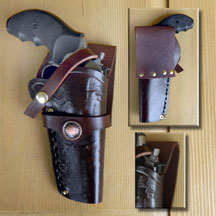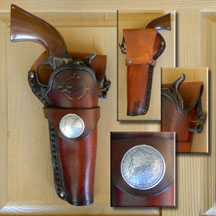 Old Gringo Select Holsters for sale: CLICK HERE


Old Gringo Holsters
Made the "Cowboy on the Range Way™" when all a cowboy needed was a good hunk of leather, a sharp knife and steady hand. Not many back in that day could afford a fancy city made holster.

They are all hand made by an old Arizona gringo from heavy 6-14 oz. vegetable tanned wet formed & tooled cowhide or skirting leather. Wet formed holsters are very firm and hold tooling well. Like all new leather products some break in will occur with use. If you want to speed the process, some neatsfoot oil, Black Rock or saddle soap will do the trick. Each style has a unique finish and color, hand oil rubbed and finished with Fiebing's or Black Rock brands of leather finishes and conditioners.

The conchos if used are heavy more expensive screw back design (not the cheap little sheet metal type)! They are only attached to the loops, never through the interior of the holster.

Versatile fits means that often one holster can often accomodate a variety of popular guns, including single or double action revolvers and automatics too. Colt, Uberti, Cimarron, Taylor Arms, EMF, Browning, Smith & Wesson and Ruger just name drop a name or two. Calibers ranging from .45 -.357 - .38 - 9mm -.380 and .22's.
Each is handmade, not mass produced. For more information regarding terms and fit click here. The holsters on the sales page are specific one of a kind designs NOT models. Unless noted as sold they are availble immediately.
Functional art. Gun holsters are a relatively new form of functonal art, originally made by saddlerers and tooled and decorated often with intricate floral or fanciful designs. If you are looking for a basic functional holster there are many excellent leather holster manufacturers to choose from and used holsters are always a good bargain. BUT if you are looking for something unique, each Old Gringo Holster design is NEVER duplicated so you can be assured that your holster is not like any other on the planet.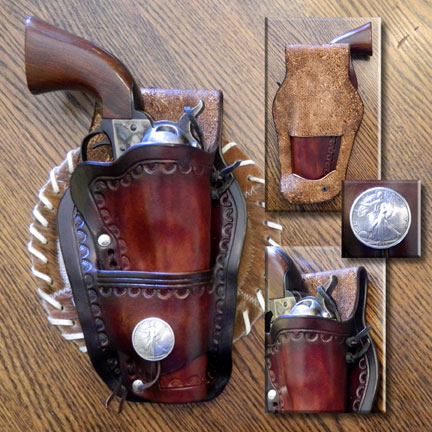 The photo above shows a "Liberty Valence" model.
Shown with an Uberti Cattleman single action revolver with a standard 4 3/4" barrel. Also a view of the back side, hammer thong retainer and close-up of the "Walking Liberty" US half dollar concho.

Below is one the new premium "Black Rock" series.
Made to look like it just stepped out of the 1870's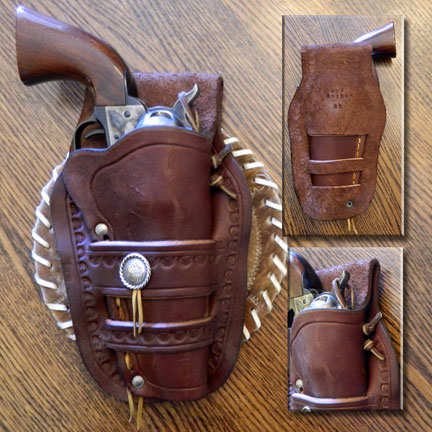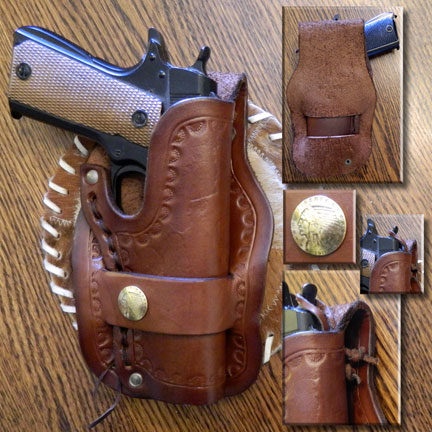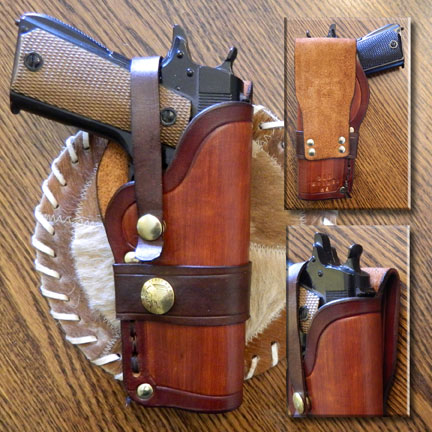 Designs for automatics too! Above fits Browning Hi Power,
Colt 1911s and clones. Note the over the top snap retainer snaps to the loop so NO metal touches your gun.. The one above that is perfect for Wild Bunch shooters.


BELOW for Bersa Thunder, Walther PPK, Beretta Cheetah, Colt 1903's and Makarov's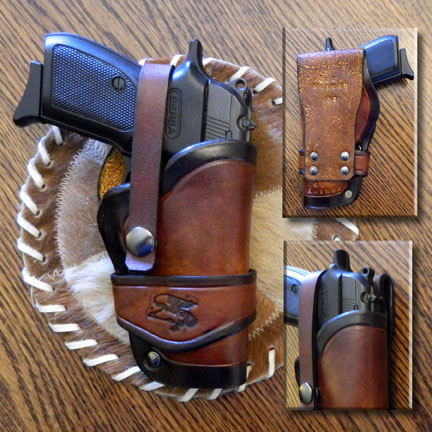 Now offering cross draw and straight draw for
Glock, Smith & Wesson 9 & 40's, SIG 225, 226, 228
and similar automatics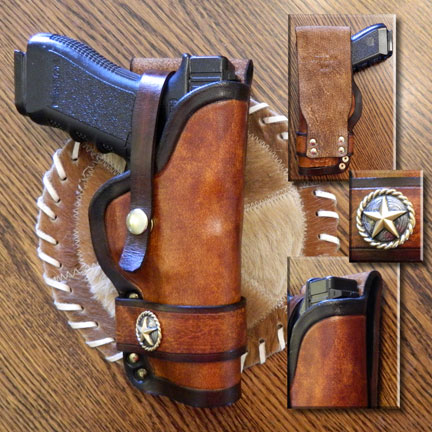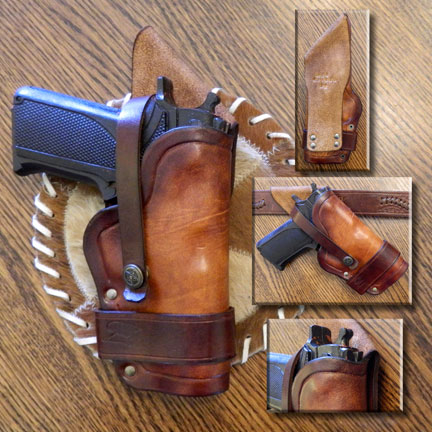 Designs include hand tooled and textured pieces.
Shown with a Colt Military .38 it also fits a Colt Python as well as most medium frame double action revolvers.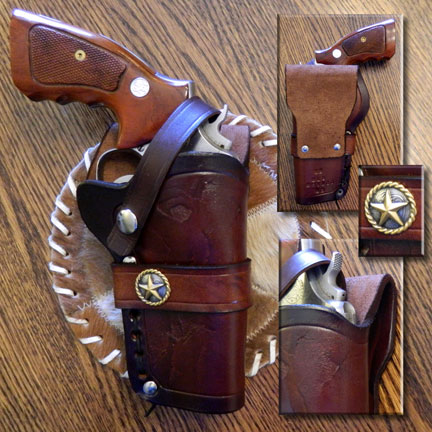 N frames no problem. Below are for a .44 S&W model 29.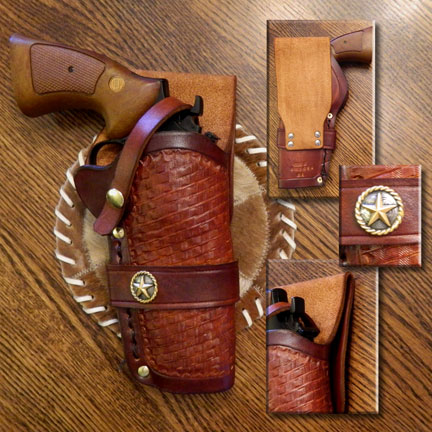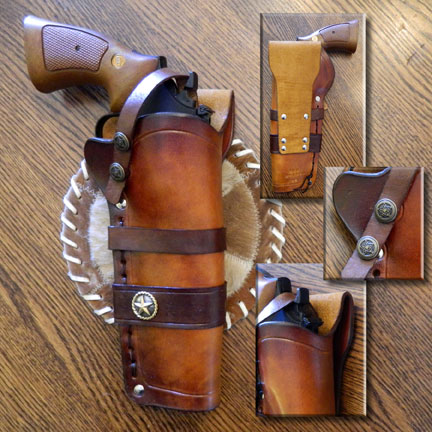 -----------------------------------
Links: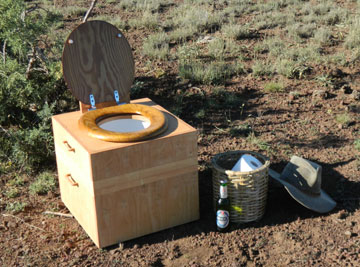 AFFORDA• POTTY
Finally, an affordable, attractive and rugged composting toilet for outdoor camping or off-grid cabins or houses!

• COMPACT TWO PIECE BASE FOR EASY TRANSPORT & USE
• EASY TO USE
• PORTABLE
• RUGGED WOOD CONSTRUCTION
• SANITARY
• AFFORDABLE
• MADE IN THE USA
CLICK HERE
for more information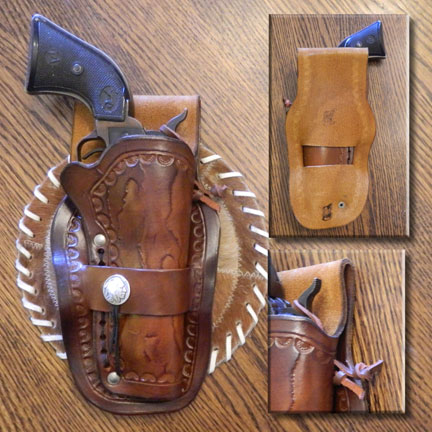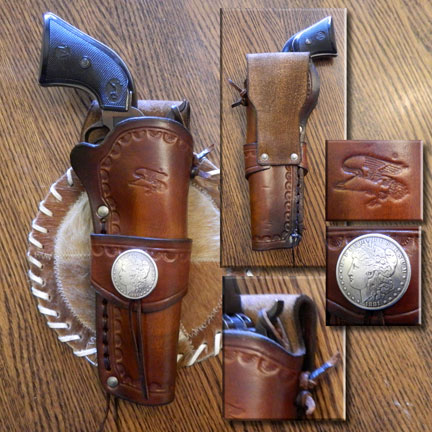 Fits for Ruger Single Six, heritage Rough Rider,
Uberti Stallions and similar .22 caliber revolvers.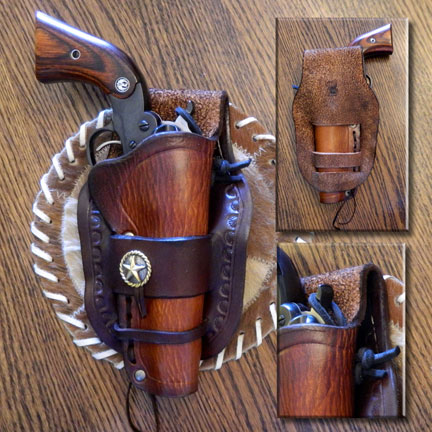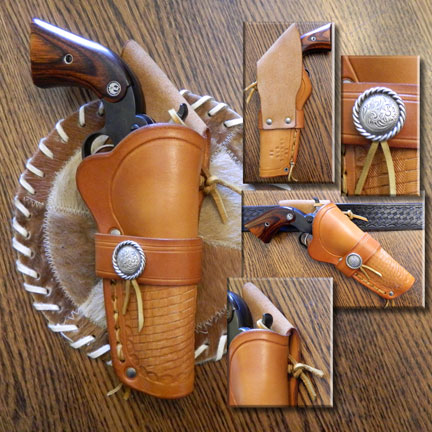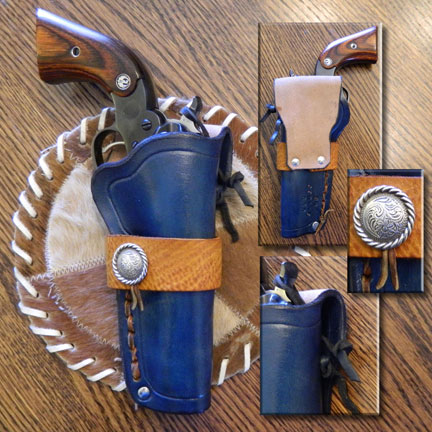 Also cross draw or straight draw exclusively for
Ruger Bearcat .22 caliber revolvers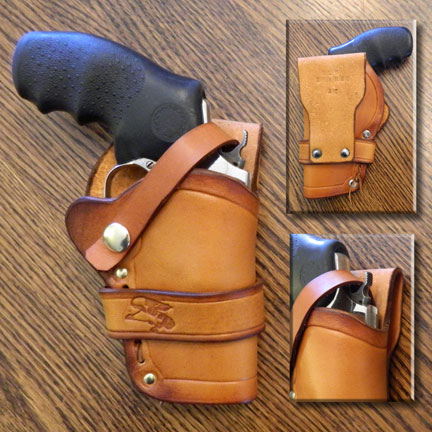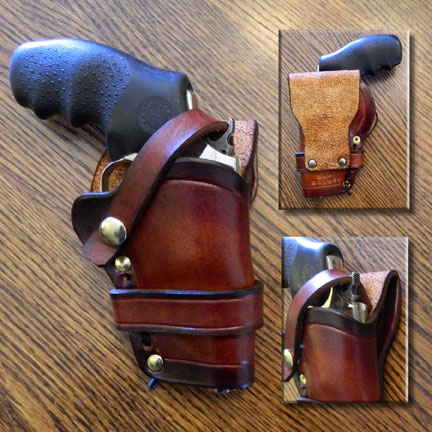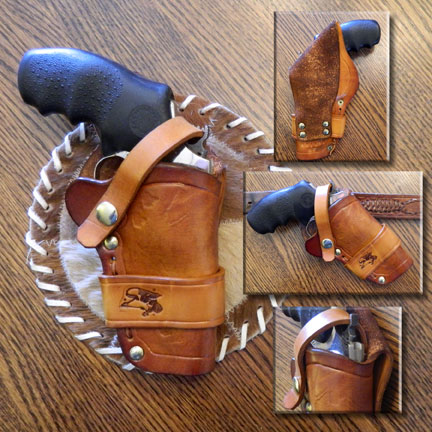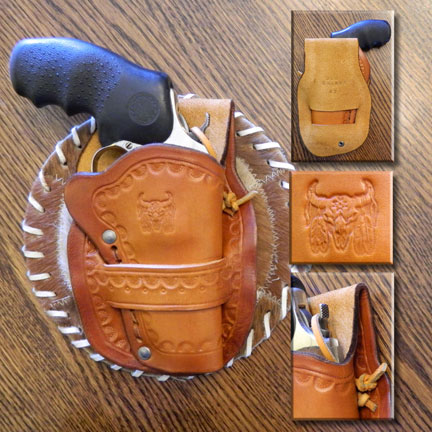 One my most popular and affordable models
often preferred by the fairer sex, fits
S&W J frame size revolvers
with up to a 3" barrel.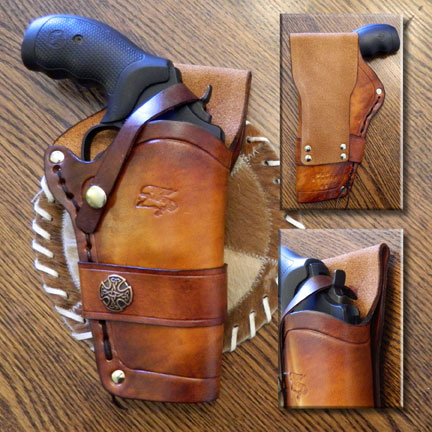 I offer several versions for the popular
S&W Governor's and Taurus Judge revolvers