MISSION STATEMENT
Basic baseball skills of throwing, catching, fielding, running, hitting and pitching haven't changed in a long time. Neither have the basic rules. Yet time and again I encountered kids that are 13 to 18 years old that have never been taught the basics or have developed bad habits and attitudes that prevent them from advancing or enjoying the game. My goal is to give kids instruction on those base skills along with lessons on rules, sportsmanship and attitude in a relaxed and enjoyable environment that will enable them to enjoy the game and help them advance to whatever level they aspire to.
The Program:
SKILL SETS:
throwing/catching - grip, arm position, trunk rotation, footwork/glove position, moving to the ball, throwing to opposite direction, non-glove hand positioning.
infield - positional responsibilities, ground balls, approach to pop ups, dealing with fear of the ball, corner techniques (1b/3b), inside infielders technique (ss/2b), double plays, throws from catcher, relays, rundowns.
outfield - ground approach and throw, fly balls, relay and cut off, backups and priorities, throwing from outfield.
hitting - stance and plate coverage, bat position, hip rotation and balance, swing and hand position, bunting, types of "head pulling", fear of the baseball, hitting strategy.
pitching - grip, arm position, wind up and stretch techniques - head position, balance, trunk rotation, pitching strategy, proper landing and follow through. At this level only fast balls and change ups will be taught, Curve balls, cut fast balls, knuckle balls and sliders need to be thoroughly avoided at this age. I have seen too many young arms ruined in my 30 years of coaching.
catching - receiving, stance and glove position, blocking techniques, framing, throwing to bases, off hand positions, plate coverage, cut offs and foul balls.
base running - running technique, rounding the bases, foot placement on bag, leads & stealing (level dependent)
Respecting the game - woven throughout the sessions will be instruction regarding rules, behavior, safety, umpires, coaches, fellow players and sportsmanship which is really the cornerstone of baseball.
------------------------------------------
Each session will focus on one or two of the above skill sets and be customized depending on the makeup of the group. This program is specially designed to accommodate young players with less experience and to augment regular practices with their respective teams.
Parents are certainly allowed to stay and observe but need to stay off the field and near the field area. (Church grounds are off limits and Bell Road is a busy place and not good for wandering younger siblings.
----------------------------------------------------------------

GENERAL INFORMATION
Location: The baseball facility at La Casa on 64th St. and Bell Road.
Tentative 2014 dates:
To be determined
Time: Monday, Wednesday' Friday - 4 pm - 5:30 pm
Maximum of 10 players per session - Minimum: 4
Instructor: John Green - Youth baseball coach since 1983. For more information click HERE
Cost: FREE for players participating in PONY baseball through AZ Playball.
Requirements - Parents will be asked to fill out a league medical release giving their permission for player to attend camp or bring a copy of the one they filled out for their player's team.
Medical release will also have emergency contact numbers in the event of injury and other caveats. This form can be e-mailed to you before registration and must be turned in before player can participate.
What players bring: Glove, bat, helmet, PPE if catcher/pitcher, baseball shoes (no metal spikes), baseball pants, shirt, LOTS of water or other fluids, sun screen and willingness to have fun while learning baseball FUNdamentals.
CONTACT US/REGISTER:
Email us for more information or call 480-694-1860
weekdays 9 a.m. - 4 p.m. Ask for John.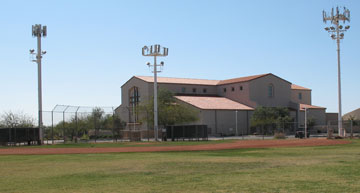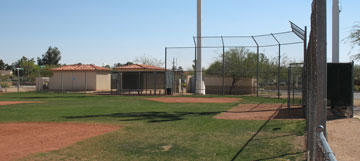 The field at La Casa is perfectly suited for this age group.
Easy to get to, with chain link dugouts, multiple base
positions and two fenced bull pens.
Coach Green
I have been coaching youth baseball since 1983 on many levels from ages 10 -18. Youth baseball is quite different than higher levels competitive ball. Baseball basics need to be balanced with patience, prudence and an ability to connect with kids of all skill levels to help them improve their game, but more importantly improve themselves in all areas of life. For a more comprehensive take on my mission statement click on this link:
Black Sox.

For 12 years, I coached almost exclusively with Jim Teeter's AZ Playball Pony Baseball charter in Scottsdale, AZ.
Testimonials
Coach Green has coached my son, Carson, for over four years and has not only vastly improved his baseball skills but also has taught him many life lessons. As a coach, he cares deeply about each player and has a knack for identifying what are the players' strengths and weaknesses; he then helps the players work on the areas that need improvement. He does this with compassion, humor and patience. Coach Green is very adept at teaching; the players learn the fundamentals of baseball well as strategy, poise and respect of the game. He has transformed my son into a confident, skilled baseball player and who has emerged as a leader due to Coach Green's encouragement. I highly recommend Coach Green to anyone seeking to improve their child's all-around baseball skills.
- Laurie Weber
------------------------------------------
..." you take the team and mold them into a family more than just a group of guys playing baseball. And most importantly, you taught me how to love the game and play for fun. In these days with xbox and movie theaters and DVDs and music, that is really hard to do, almost impossible, but you did it, and I can't thank you enough" .... "you are rare in that you understand sportsmanship and enforce it every way possible. I know you don't like losing, but really no one can tell. Some coaches scold their players, tell them they are a disgrace to the game and need to work harder. You on the other hand only point out that that is life, and instead of trying to cajole us and butter us up to put on a happy face you tell us a valuable life lesson that many of us need to hear and wouldn't hear if it weren't for you..."
- Steve Henglefelt (age 15 - 2005)
----------------------------------------..."hey John, Mark, Kevin's dad. I just want to thank you for what you have done for Kevin. I coached him from t-ball into LL minors. and he continued to play majors and juniors but has not touched a baseball since the 8th grade. Majors was not a very good experience and almost caused him to quit baseball. He had fun in Juniors, but I figured that was it. Then you came along. Don't EVER question the value of the time you put in with these boys. you are making a difference in their lives. I can't believe a bunch of rag tag guys all in different shirts came within one run of beating two high school teams this past weekend! Kevin had a lot of stories and we loved listening to them all. Thanks again but most of all thanks for making a difference in Kevin's life and being such a positive influence in his life "
Mark Tantillo (dad of an 18 year old spring 2008)
Background
In the course of coaching and other activities I have undergone and passed extensive background checks from local and Federal law enforcement agencies and am on file at Arizona DPS.