THE AMERICAN SOUTHWEST
The great American southwest has wealth of history long before the coming of Europeans in the 16th century. Unfortunately, first hand stories of those times are rare, usually only in verbal form. From that time forward, stories, legends and myths abound. Seekers of gold and silver, trappers, explorers, wild-west gunfights, cowboys, saloons, ghost towns, lost gold mines, wars, frontier towns, stagecoaches, railroads, early automobiles, Indian spirits, ghost dancers and Jackalopes are only a handful.

Spaniards were the first to come to the area now known as Arizona and New Mexico after their conquest of what is now Mexico. They were explorers, settlers, conquistadors, miners, missionaries and seekers of fortunes. Mexicans, peoples resulting from intermarriage of the Spanish and Native Americans, came next. A flood of Americans then migrated west – immigrants and descendants of immigrants from all over Europe including English, Germans, Dutch, Scandinavian, Italian and Irish. Soon, they dominated the area, building towns, cities, railroads, farms and ranches. Freed slaves played a major role after the Civil War. Women were miners, ranchers and entrepreneurs in addition to being wives and 'ladies of the evening.' Their stories also came to dominate the culture known as 'The Old West Frontier.' Both states, Arizona and New Mexico were only territories until officially admitted to statehood in 1912.

Both states grew in population slowly until the advent of two things – modern automobiles with highways and air conditioning. Before those, travel was mostly by wagon or railroad. Cooling in the hot desert regions was wet sheets hung over windows and porches. Warmth provided by wood stove, fireplace or heavy layers of clothes. To those readers not familiar with either state, please note that both are geographically diverse from high snow capped mountains, fertile valleys to vast regions of the Sonoran desert.
For people who romanticize those times or dream of living back then, please disregard all Hollywood versions of the old west. Modern medicine was unknown. Doctors and dentists had little formal training, if any. Many were indeed practicing medicine. Vermin in all forms infested every house, hotel and barn. Travel was limited and disease rampant. Life spans were generally short. Comforts were few. Feel free to enjoy this page from the comfort of you home as did this author when he wrote and designed the page.
Please take note that the author of this site has lived in Arizona for twenty years and traveled extensively both in his new home state and adjacent, New Mexico and has a second home in Ash Fork, Arizona.
To contact the author click below

To return to page one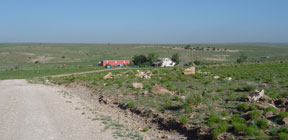 My cousin's ranch in Northeastern New Mexico, near Clayton, the county seat of Union County. Population approximately 4,300. The vast expanse of the Kiowa grasslands kisses the 'big skies' of the west.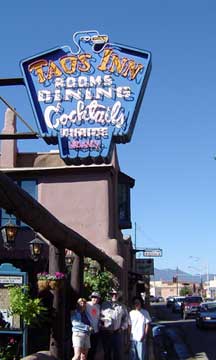 The Taos Inn, in historic Taos, New Mexico draws people of all walks of life in the evening and tourists from all over the world.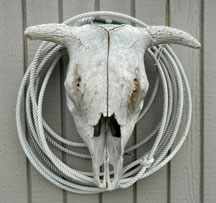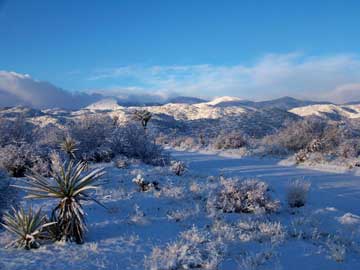 The southwest usually conjures up images of vast
burning deserts but this is snow in the Mojave.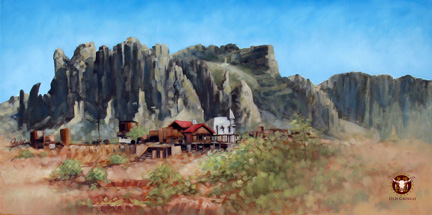 Goldfield, Arizona
An old mining town at the foot of the Superstition Mountains, the home of the "Lost Dutchman Mine" of fable and myth.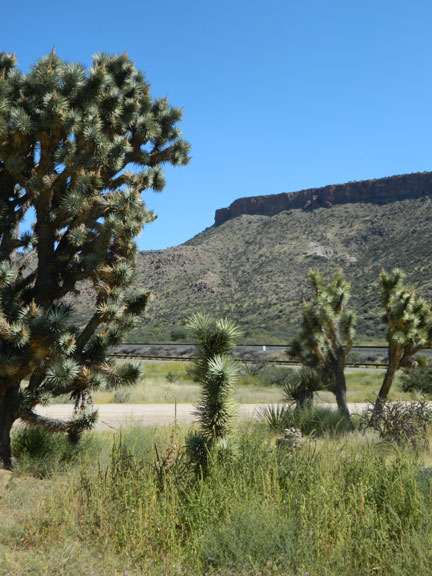 Northern Arizona has the longest section of Historic Route 66 still in existence. It runs from Ash Fork all the way to the California border.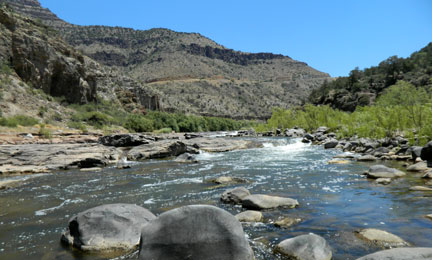 The bottom of the Salt River Canyon in Arizona on the Apache Indian Reservation.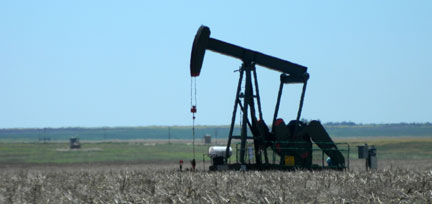 One of the ubiquitous oil wells in southeast Colorado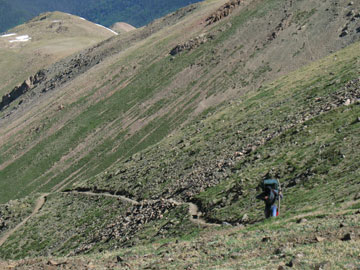 New Mexico, like Arizona, has widely diverse geography from the plains pictured to the left to the Sonoran Desert to the south. It also has high mountain ranges. Here a hiker is on his way up Mount Wheeler - elevation 12,000 feet.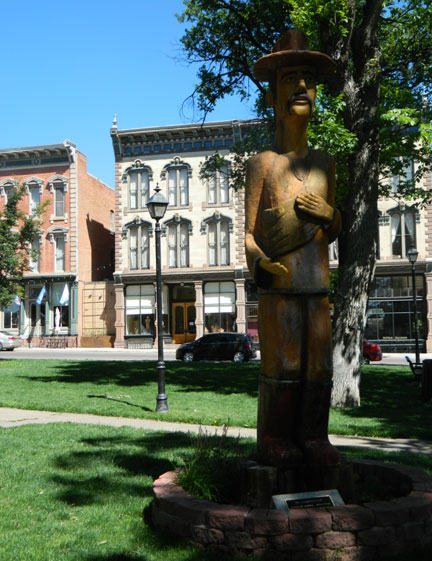 Las Vegas, New Mexico is older than it's namesake in Nevada. This a view of the historic plaza where many films and television shows are filmed, including the long running TV hit - Longmire.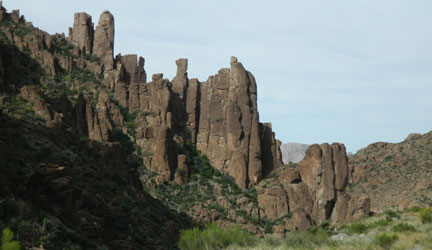 Superior, Arizona is still a mining area.
Not gold or silver -- COPPER!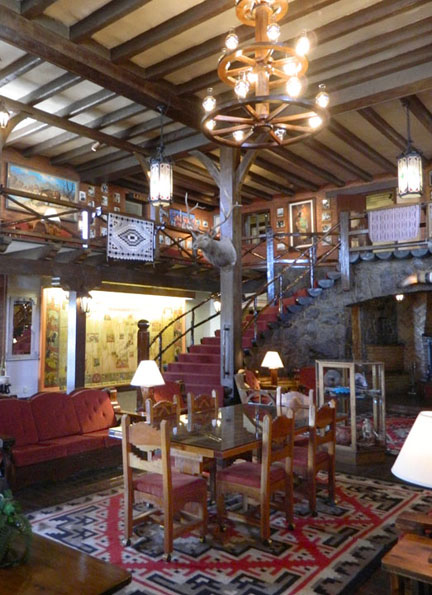 Historic Hotels abound in the southwest. This is the lobby of El Rancho in Gallup, NM. Built to house movie stars in the 1930's. Some historic Harvey House hotels still exist, renovated to their past glory in Las Vegas, NM and Winslow, Arizona. The Eklund in Clayton, NM has been completely restored in recent years.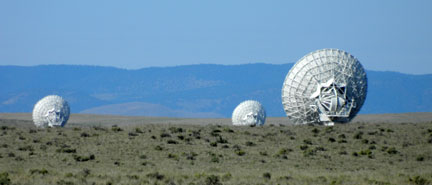 Along US route 60 in eastern New Mexico.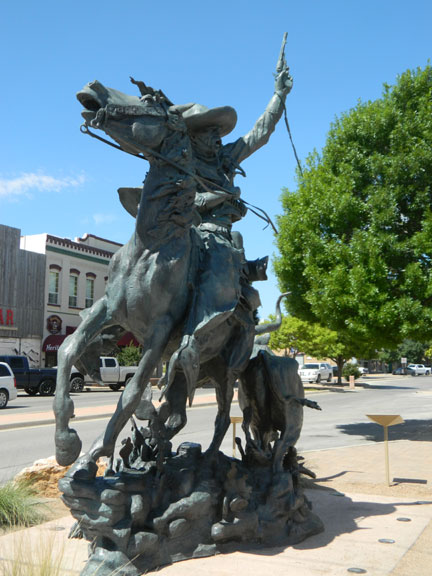 Artesia, New Mexico is nearly on the border of Texas.
Many beautiful statues grace Main street, this a tribute to Vaqueros of a bygone day.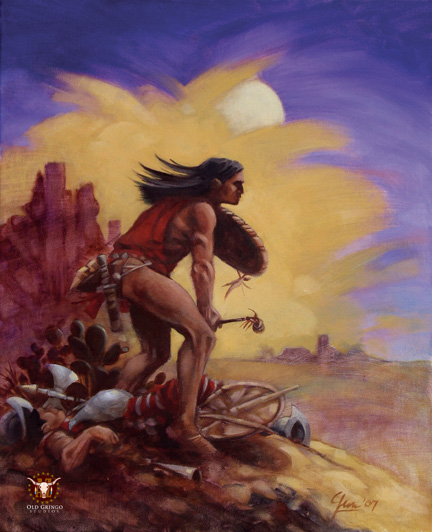 The Taos Pueblo Indians briefly rose up against their
Spanish rulers, killing them all. They thought their
freedom was assured but it was short lived. Within
a few years the Spanish conquistadors returned to
punish and subjugate them once more.

I've written a short historic fiction story book about the event and the actual history is covered in the appendix. It and several other short stories by myself and other authors are in the books below. Click on the photos to go to a purchase link.