myfambly.com
makes every effort to check for typographic errors but is not responsible for the text or photo content of this website.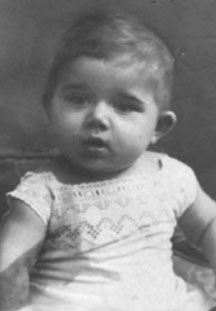 Baby Frieda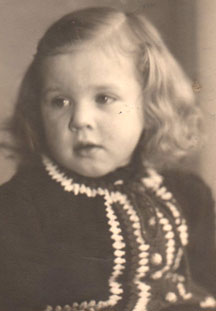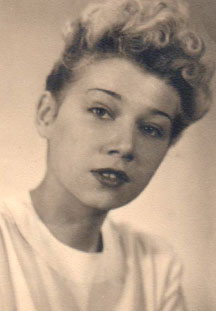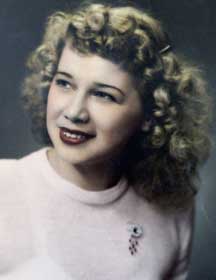 above dates unknown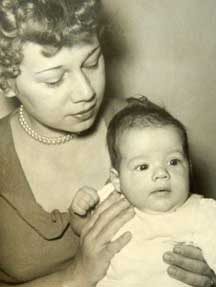 1953 - baby Johnny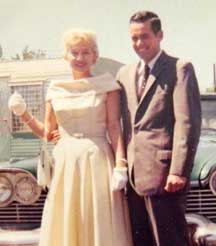 !958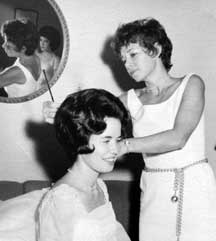 1959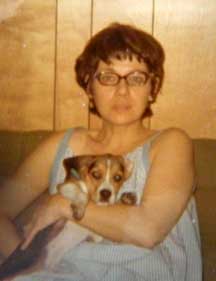 1970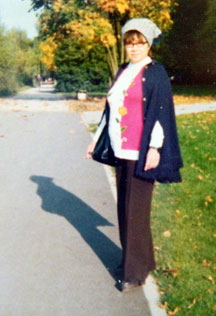 in Landshut, Germany - 1973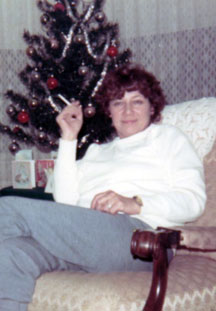 c. 1980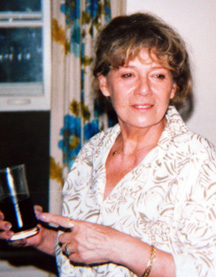 c. 1989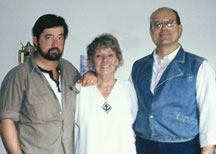 John F Green - Frieda Green - Vilko Green c. 1993


Frieda Gierl Green.
Born in Germany c. 1926, came to the U.S. with John L Green Jr. in 1950 and lived in Oklahoma and Scotia, NY before settling in Guilderland, NY.
Hairdresser
Spent her youth in Nazi Germany and did time in Dachua concentration camp in Munich.
Brothers Yvonne, Joseph and Siegried all survived the war, Joseph spending much of it in Georgia as a POW. Also had a sister Elizabeth who raised her after her mother died.
Trained as a beautician in Albany, NY and worked for the Dewitt Beauty Salon in Albany, often doing hair for young starletts at the Starlight Summer Theater in Latham, NY including Audrey Hepburn.
Moved to Los Angeles with Jim Hogan where she died in 1995.
"Frieda comes and Frieda goes, where Frieda goes, no one knows" -- John L Green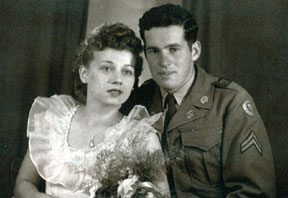 1949 - married John L Green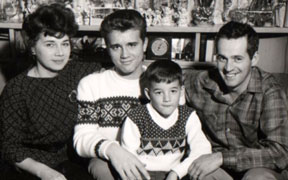 c. 1960 with Vilko, "Johnny" and
John L Green Jr.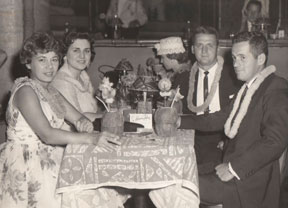 |
Frieda, Josephine Murch, Ted Murch and John L Green Jr. in a NTY Nightclub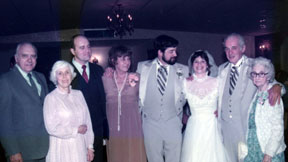 1984 - (Left to right) Floyd Kyea - Margorie Kyea - Vilko Green - Frieda Green - John F Green - Cathy A Green - John L Green Jr. - Leola Green.
The last time everyone was in the same room.
---------------------------------------
Excerpted from John L Green's "journals" after his passing detailing the difficulties he encountered to marry Frieda Green. (edited for brevity, language and other more personal details):
---------------------
"Not your usual wedding"
-1947 - married by Justice of the Peace in Landshut Germany - the catch: only recognized in the state of Bavaria.
- For more "official" marriage, by US Military law had to have $400 cash and present 7 copies (2 US and 5 German) made more difficult because Eleanor Roosevelt had strongly opposed American soldiers marrying overseas because there "would not be enough men to marry American girls"
- 1948 - turned down due my mom's "criminal record". She had spent 1939-1945 in Dachau (Nazi concentration camp) because her family had OPPOSED Hitler! (Some "criminal record!")
- 1948 - finally got Dachau records in Munich.
- 1949 - started paperwork for 3rd time. US Govt. wanted records of everywhere lived and every other detail. He got them in late. Too busy being an MP, patrolling Czech border, competing on US Army Rifle team, maneuvers, and rounding up criminals and drunks!
-1950- Started papers again - Cost so far: $1,600. ( a lot of money back then)
- 1950 - While competing on the US Army rifle team in Grafenwohr, Germany finally granted permission to marry - the catch: it had to be on July 9th ONLY at Landshut town Hall.
July 8th: went AWOL, thumbed, taxied and hopped a freight train in Regensburg to get to Landshut.
- July 9th (Sunday morning) - got married again! - caught train/taxi back to near Grafenwohr. With sun coming up, hiked through a field to camp munching on wedding cake he had stuffed in his pocket!. Missed reveille but friends covered for him.
- July 10th (Monday) won silver medal 1950 European Theatre Small Arm Competition- 49 bulls eyes and one complete miss. Otherwise would have been a gold medal.
July 11th - skipped a rifle team competition trip to Britain to get back to home Landshut to get passports and visas for my mother and brother.
Next step - Married again by US Army Chaplain. Passports and visas came while he was on Operation Rainbow.
Sailed from Bremen. Arrived in Brooklyn - first ones off the ship! Then had to wait 5 years for my mother's US citizenship papers.
Epilogue: No honeymoon - shipped off to OK, AR and CA army posts before being shipped out to the far east in Okinawa! (1950-1953)
-----------------------
I guess he REALLY wanted to marry her!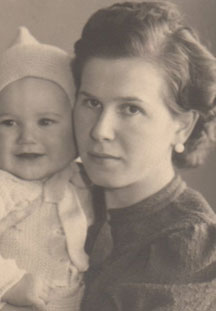 Frieda's Mother Theresia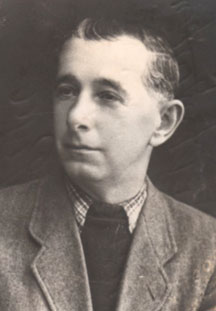 Frieda's Father - Joseph Gierl
"Papa Gierl"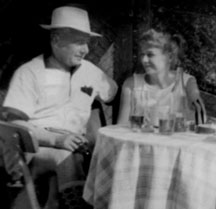 Papa Gierl and Freida 1958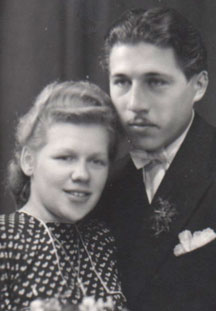 Brother Joseph "Sepp" Gierl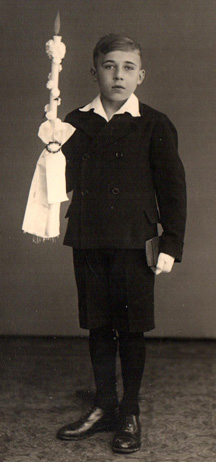 Joseph "Sepp" Gierl - age eight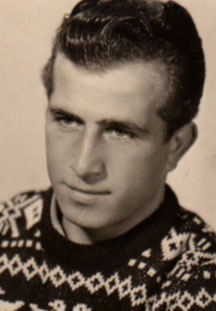 Brother Sigfried Gierl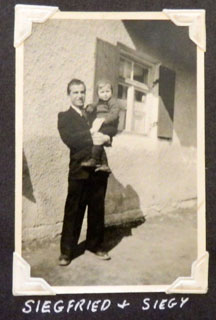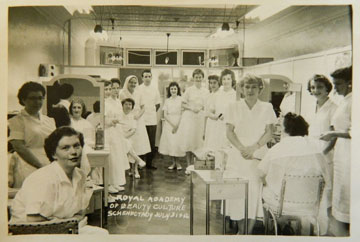 Royal Beauty Academy - 1957 (4th from right)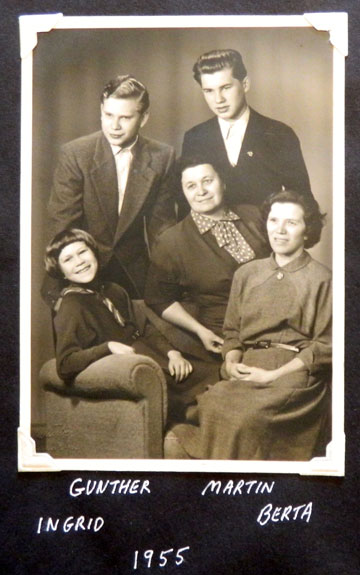 from family album - Ingrid Kohler-Fleischer (lower left)
I have recently (2106) been in e-mail contact with Ingrid and Lothar Kohler. Below are some photos the sent and a little German family history: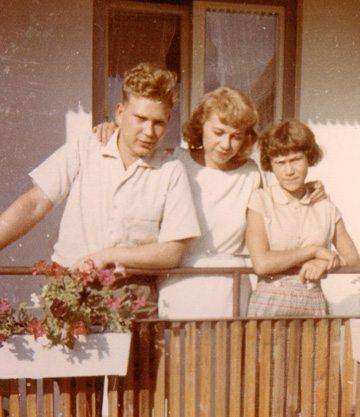 Gunther, Frieda and Ingrid c. 1958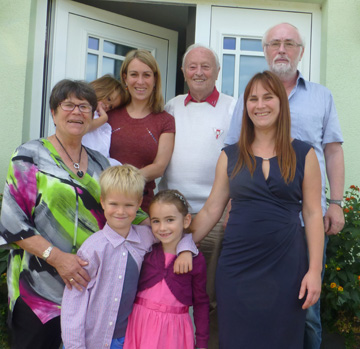 left side : Ingrid Kohler
Corbinian grandson (son of Birgit )
Isabel granddaughter (daughter of Annegret )
Annegret our daughter age 36

behind : Emilia granddaughter ( daughter of Birgit )
Birgit our daughter age 38
Horst father from Lothar
Lothar Kohler
* note: Ingrid is a first cousin of Vilko and John Green
--------------------------------------------
Family notes from Ingrid to John & Vilko:
Today I write to you our family-history :

Our common-grandmother is Theresia .
She married Ludwig Bichlmeier.
He died 1915 in the first war. He was my grandfather .

They had two daughters , Elisabeth b. 1912 born Berta b. 1913 , both Vilkos and your aunts .

Berta was my mother, she died when I was 12 years old and my brother Günther was 15 .
Gunther died in 1968 , he was 27 years old .
My father is missing since the end of World War II in 1945 .
1925 our grandmather Theresia married Josef Gierl .
That's John and Vilko's grandfather .

Elisabeth and Berta are been half-sisters , to Frieda , Josef and Siegfried .
Aunt Elisabeth (Liesl) had had 3 children.
Else Herde b. 1933 currently living in Tübingen, Germany.
Erika Maier, died at age 71.
Martin Eineder, died at age 50

We had contact with your uncle Josef (Sepp), he is dead, or Siegfried, who lives in Wörth near Landshut, Germany.
----------------------------------------------------
My (Ingrid) husband is Lothar Köhler , we married in 1975 .
We have 2 daughters .
Birgit will be 39 in May 2016 .She is married and has 2 children: Corbinian 8 and Emilia nearly 6 years old .
Annegret has birthday is March 20th , its the same as Vilko's Birthday.
She will be 37 and has 2 children: Stefano 11 and Isabel 8 .
------------------------------------------------------------------
Your mother Frieda Green) had 2 sisters and 2 brothers .
Sister: Elisabeth , born 1912
Sister: Berta , born 1913 .
Both daughters from Ludwig Bichlmeier,
first husband of our grandmother Theresia .
Brother Josef, born 1926
Brother Siegfied , born 1928 .
Both sons from second husband Josef Gierl, born 1901 .
Our grandmother Theresia died in October 1937 .
Your grandfather Josef Gierl married again .
I`m not sure once or twice. Therefore I don`t know, if he had more children .

Frieda and her brothers had a very difficult youth because the mothers changed.

Elisabeth and Berta helped as much as possible .
Your father John L. Green was beloved in our family .
He was a quiet and friendly brother-in-law and a good uncle for we children, when he was in Germany.

-- your cousin Ingrid