MALBIHN
Avarice and adventurers are dangerous companions. Hired to seek out a fortune
and a myth, a rough-cut, unsavory man finds more than he bargained for in the
Arizona wilderness.
***
BIG KARL
"Karl, that was an incredible trip. It was worth the wait and every penny we paid. Millions of people do Grand Canyon river expeditions, helicopter fly overs, Phantom Ranch hikes and even the Supai Falls and Havasupai Reservation Village but your guided trip down from Utah through the upper reaches was just, - well priceless is the only word." The well tanned, weather beaten man reached into his pack and pulled out his wallet. "Here's and extra five hundred for you. All six of us pitched in."
Bill Harder reached out his hand, but 'Big Karl Malbihn' gave it a perfunctory shake, stuffed the money in his sweat stained shirt pocket and muttered a barely audible "thanks."
The rest of the group was already getting into the van that would bring them to the Hualapai reservation lodge where comfortable, albeit expensive rooms were waiting as well as their private vehicles that had been driven down from Utah by young reservation Indians hired for that purpose. Malbihn paid the boys crap wages, but they liked driving the Land Rovers, BMWs, Mercedes and other high end cars that they would never own for the 15 hour drive down to Arizona.
Karl was not sorry to see the group leave. They had been competent enough hikers, except for Harder, and of course, had all the best high-end equipment their rich asses could buy. But two weeks of listening to them and their snooty, chit chat around the campfire was more than enough for him. Mergers, acquisitions, private jet flights all over the world and their fancy homes held little interest to him and in fact, rather pissed him off. He would never have that kind of money. Not that he wouldn't want to. 'Two weeks of guiding these rich suckers, cooking for them, patching up their minor injuries and toting half of Harder's gear half the frigging time, and all they could scrape up was a lousy extra five hundred," he thought sourly. "They probably drop that on a fancy dinner in some resort or Manhattan restaurant."
Malbihn himself had never eaten in a New York City high- end restaurant, or any other kind, because he had never been east of the Mississippi. He had been born in Wisconsin to a poor family and dropped out out high school after the eleventh grade. After ten years of odd jobs in stores, ranches, and farms he got a job with his old pal Sven Jenssen up in Canada doing wilderness camping tours. Whatever a perversely benevolent nature had lacked giving him between the ears it made up for with his rugged physique and crude but practical mind. It had also bequeathed him a violent temper, and gruff personality that he honed and developed over his nearly forty-five years. Few men messed with him and few women could put up with him. Blonde haired, with icy blue eyes, he stood well over six foot four with broad shoulders and the muscles of a professional athlete. Tiring of the bitter cold winters of the north, he migrated to Northern Arizona five years ago and started his own private tour company with a small amount of money he inherited from his mother's life insurance. It helped grease a few palms for permits and run a few ads on-line or in wilderness travel magazines. He also scrounged a few books on Grand Canyon lore, Indians, southwest history and such, so he could talk the talk as well as hike the hike.
The highlands of northern Arizona were windy and chilly in the winter and scorching hot, dry and sun baked in the summer but far preferable in his mind to the testicle freezing long winters and humid mosquito infested summers of Wisconsin and southern Canada. Six months before starting his business, Malbihn camped out all over the state looking for a unique sales angle and becoming intimately familiar with the environment. He also familiarized himself well with the conservationist mind-set of his potential customers.
Turning his back on the group, he stowed his gear, climbed into his well-worn Jeep Wrangler and left them to their comforts. He headed down Indian Route 6 to Peach Springs, a small town on old historic Route 66 where he lived in a dilapidated fifth wheel camper that he rented from an old geezer who had 120 acres littered with shacks, beat-up campers and the usual assortment of trash, litter and junked vehicles. The place also had the usual assortment of critters, coyotes, javelinas, and pack rats. 'Home not-so-sweet home, but at least the rent is cheap', he thought as he popped the clutch and spit dust in his wake.
"Same old crap, different bunch of crap heads and same crap pay," he said aloud as he turned off the dirt road onto the paved highway. "Maybe I'll grab a steak at the tavern in town. Beats the hell out of whatever canned food I have at home, and I can use the massive tip they gave me to eat good and maybe find a little female comfort at Muriel's place." He had a week before the next tour. Malbihn never made that trip and the new group never got a refund on their advance payment.
***
THE PROPOSITION
Malbihn was half way through his 'still movin' rare t-bone and all of the way through three cold beers with a Jim Beam chaser, when an immaculately dressed man carrying a cane slipped into the booth across from him in Ralph's Route 66 Tavern. His clothes were straight out an L.L. Bean catalog with a short shot of REI or Cabella's tossed in. The cane had an intricately carved brass handle that screwed into the top. As a contrast to Malbihn's sweat stained shirt, vest and and thick blonde beard, he was smooth shaven and wore thin wire rimmed glasses.
"Who the hell are you, and what do you want?" Malbihn said gruffly with half a chewed mouthful, some of which exited in the general direction of the intruder on his supper.
"My name is J. Morrison Baynes, III," the man said softly. Before your well-known reputation for mayhem, maladjusted moody disposition, or malodorous personality kicks in, let me first say, that the dinner and drinks are on me. Already paid for in full, with a handsome tip for Susie over there at the bar."
Malbihn glanced in her direction, and she flashed him a big smile and a thumbs up. He decided to hold back with the epithet he was about to unleash, and cut another chunk of steak.
"In addition to that, there is a very nice looking young Asian lady waiting for you at Muriel's, how would you say, palace of female delight. Also paid in advance. Said young woman will have no other companions than yourself for the next two days. Muriel herself will make sure of that, and it was in fact she whom advised me that I would likely find you here today."
Baynes paused for a moment to let this sink in. Malbihn cut another large piece of beef, forked it into his mouth and just nodded as if to say, "Go on, you have my attention."
The man slid a small but thick manilla envelope across the table just short of Malbihn's plate. "In this envelope is ten thousand dollars in cash and a post dated check for $100,000 more, one year from now, made out to you and only good at the Chase Bank branch on the corner of Thunderbird and Scottsdale Road in Phoenix. I hope that this, in addition to the advance tip, has garnered your attention?" He noted as Malbihn reached for the envelope, a small tattoo on his wrist. It was a small outline silhouette in the shape of Wisconsin and the letters KM/FU beneath. It didn't take a cryptology expert to figure out it was Malbihn's parting sentiment about his home state.
He was interrupted briefly in his speech when Susie brought another beer, a shot glass of bourbon for Malbihn, and a vodka tonic for Baynes. She was handed a twenty-dollar bill for her efforts, and almost fell out her short skirt as she wriggled away.
Malbihn tossed down the shot followed by a gulp of beer, burped, squinted at Baynes and said, "Who the hell do you want me to kill? As much as I like the money, that's not my gig. I can't spend any damn money from a prison cell."
Baynes replied, "Relax, my burly friend, I have had men killed for far less money. I have need of your particular talents and acumen for a far more lucrative venture. For you, and me."
Malbihn deliberately took the last bite of his steak followed by an equally slow sip of beer. "Okay, boss man, you have my undivided attention." His normal avarice aside, Malbihn reckoned that if this was for real, he could stop earning his living from the sweat running down the small of his back and aching feet. He wasn't getting any younger, and with that amount of dough he could set up a little outfitters store and hire the Indians to do the guide work.
"You are intimately familiar with this area all the way up into Utah if I am accurately informed," continued Baynes. "I also understand that you are self-reliant and need no retinue of helpers. The expedition I have in mind is strictly a one-person operation. And that one person will need to keep the purpose close to the vest, if you understand my meaning. Very close to the vest. Other than your penchant for the women of the evening and an occasional drink or two or ten, I have it on good reference that you know how to keep important things to yourself."
"Correct on all three of those things," Malbihn replied with a grin, "Although I don't know if I'd use them fancy terms myself."
Baynes returned the grin and continued, "This project may take a while and be extremely difficult, but I believe the incentive I have offered is sufficient. Are you willing?"
"My daddy always told me not to jump in the water until I knew how deep it was, although I have been known to not exactly do that all the time. How deep's the water, and when do I jump?" Malbihn sat back in the booth still chewing the meat and took one more sip.
"Mr. Malbihn, or might I call you Karl, have you ever heard of Kwi-ka- kikinee?"
Malbihn sat forward and laughed hard, spewing no small amount of beer and mouth debris as he did so. "Good God, if there is one. Are you nuts, or do you think I am a total moron? Of course I have, just like everyone else who has been around in the bush, barrooms and boondocks. There ain't no such thing or critter. It's a myth no different than countless others like Bigfoot, or Sasquatch or dozens of other names that myths, mysteries and wild imaginations can conjure up. Come to think of it, maybe I ain't the moron sitting here in this dive."
Baynes sat impassively during Malbihn's tirade, but reached into his vest pocket for yet another envelope that he slid across the table when the laughter stopped. "Please open this and observe. If you are still skeptical afterward, just give it back along with the other envelope, but feel free to partake of my previous offered gifts. We can then part ways and I will continue my search for another such as you. No harm, no foul, as you might say."
Malbihn opened the envelope, which contained three five by seven inch black and white photos. Two were very clear and well lit, but the third had some blur to it as if the subject or camera had moved slightly. He recognized the background terrain instantly. It was up on the Shivwits Plateau near the Grand Wash Cliff Wilderness Area. The man-like creature depicted was wild looking, with hair flowing down well past it's shoulders, retained around it's head only by a single unadorned rawhide thong. Bushy eyebrows nearly obscuring savage looking eyes were nearly joined by a massive beard running well up the cheeks and falling down nearly to it's waist. The sole garment in evidence was a ragged canvass-like material that ran off one large muscular shoulder, downward to it's hips and wrapped haphazardly about the groin. It was crouched only slightly with open grasping hands. Two small details attracted Malbihn's attention with no small amount of wonder. Tucked into the garment was what appeared to be a small piece of paper, and in one photo there was a large gray wolf poised next to him, it's shaggy side nearly brushing the creature's left leg.
Malbihn had seen plenty of these types of photos in his time in magazines, curio shops, postcards, and on television. All were grainy or indistinct and could have been shadows or something made out of sticks and rags. Some were so badly retouched that only the most gullible would give them a second look. Although certainly no photography expert, these looked to be very real and the fact that he knew the location from experience added greatly to their believability.
"Do you want me to kill it, capture it or take more pictures of it fellow?"
"As you can see, I have photos already. They cost me a small fortune as it was. The man I hired handed me his Nikon camera just before expiring. The poor soul. Killing it would not yield any profit to me either. Your task, if you think you are up to it, is to capture this Kwi-ka-kikanee, and bring him, or it, to me. If you fail, or fail to return, I suppose my search for one capable of the task will perforce continue."
His ego and greed thoroughly aroused, Malbihn replied firmly, "I'm your man. There ain't nothing I know better than Northern Arizona, and Southern Utah and I don't need any nursemaids or camp followers neither. But if this is a hoax, or I search for a year and can't find it - I keep the ten grand right?"
"Absolutely my friend, but I suspect you will either become a very rich man, or possibly a corpse. There is an associate of mine here in town whom I trust and in any event has been, like yourself, well paid. He will contact me the moment you report to him or your dead body shows up." Baynes handed Malbihn a business card. "I sincerely hope the former is the result and since you have much to prepare for your endeavor, after of course, the joys of this evening, I will bid you good day." Baynes arose and left the tavern without looking back, other than to tip his hat to the waitress and the bartender.
PREPARATATIONS
First light filtered through the lace curtains of a second floor room at Muriel's "boarding house" out on Old Miller road. Chin-Chin, a petite Chinese/Malaysian prostitute lay still sleeping next to Malbihn but he was already fully awake, his mind filled with plans and possibilities. The previous night a day ago was something of a blur. Bourbon and the two girls supplied by the more than willing Muriel occupied his sole attention. Pilar Sanchez had to beg off a second night because she was so sore down below she could barely walk in the morning. Chin-Chin was more than happy to get Pilar's share for a second night. Fortunately for her, Malbihn's sexual appetite had been sated the night before so she got off easy. Muriel herself came in around eleven and gave him a rubdown and back massage, a courtesy that was unheard of, but bespoke more of the hefty financial bonus from Baynes than any affection for her semi-regular and sometimes quarrelsome customer.
As Malbihn gathered his scattered clothing from all points of the room, Chin-Chin watched him from one half-open eye hoping he would leave, thinking her still asleep. Had this been a normal romp, he would not have hesitated to roughen her awake for a morning quickie but today he had other things to do. Money trumped women easily in his way of thinking because if you had the former, the women were easy.

Before noon, Malbihn had returned to his place, gathered all his wilderness survival equipment which included a Smith and Wesson .357 revolver, and a fully choked 22 inch 12 gauge shotgun with a wide leather sling, and was heading west on Route 66. He knew his starting point from the photographs. The place was high up in the remote area of the Parashant National Monument well above the Grand Canyon between the border of Arizona and Utah. Not many people in that area if you discounted the fundamentalist Mormons in Colorado City, but they mostly kept close to their homes with their multiple wives and cult religion to avoid unnecessary run-ins with the Arizona State Police. Other than that, there was only a few scattered one-horse towns like Wolf Hole or Tuwleep, infrequent wilderness hikers, hermits and nut balls. The revolver would take care of any trouble with them. His main concern and reason to hurry was a meeting with yet another Sanchez. It was already late May, and old "Turtle Chops Sanchez," a half-breed Hopi Indian, would be closing up shop and moving his herd of horses and burros north for the summer. Unfortunately, there was no direct route. He would have to head west to skirt the Colorado River near Las Vegas, and then turn north, northeast on Interstate 15 up into Utah to get to that old thief's ranch near St. George.
Sanchez was indeed getting ready for the move north to a dude ranch in Wyoming when Malbihn pulled up in front of his dilapidated unpainted three-room shack. A rough corral held in a group of dusty, sad eyed burros. Behind what Sanchez grandiosely called his ranch house, stood a greyish brown barn with missing or rotted boards and an incongruous freshly painted bright green feed shed. Milling around in a corral in front of it was a small herd of eight scrawny, raw boned horses in varying shades of brown, that would soon be the delight of tourists taking selfies and digital group photos imagining themselves to be real wild west cowboys, cowgirls or desperadoes. Two long and rusting horse trailers were standing to one side, only awaiting equally rusting old pick up trucks to hitch up and haul them. Sanchez was standing beside one checking the tires.
Malbihn could care less about the ponies. It was the burros he was interested in. When it comes down to it, horses are delicate and thirsty critters. A loose shoe, a sharp rock or a twist of an ankle makes them useless in a hurry. Horses also consumed an average of twenty-five gallons of water a day even if not working and a lot of forage and feed. And even broken down trail horses like these who would more or less tolerate a broad tourist dude ranch butt or small child on a tame, nose to tail trail ride will spook easily if out of their normal routine. Burros on the other hand, are tractable, sturdy, steady and used to carrying heavy loads for long periods. They were less needy of water and ate damn near anything they could get their teeth on. A stale muddy pool of water and patches of dried grass or weeds may not be their favorites, but they could survive on them. Knowing what he really wanted, Malbihn of course, started to bargain for the horses. He already had a small stock trailer parked a few miles back on a side road.
"Hey, Turtle Chops my old friend, long time, no see. How's business up this way?" Malbihn knew the answer before he asked. "I'm thinking of doing a little side business down in Peach Springs doing trail rides for the Route 66 tourists. You interested in selling any of your ponies?"
Sanchez eyed him icily. They were certainly not old friends. Malbihn had tried to swindle him several times in the past, but that he didn't really hold against him. Honor among thieves, he expected it, and would have been the swindler himself if he could, but he just wasn't as good at it. He really hated Karl Malbihn for the time he tried to come on to his only granddaughter but when her boyfriend showed up and objected, Malbihn was in the process of mercilessly beating him senseless, until Sanchez himself showed up with his double barreled shotgun. Malbihn tried to claim self-defense from a jealous lover, but Sanchez knew better. It didn't stop him from doing business with him from time to time however. Money was money after all.
"My friends call me Sanchez," he replied. My ponies ain't fer sale unless you can give me a fairer price than you give me for my Ford F150 a year ago."
Malbihn smiled to himself and knew he had a deal going. He started by offering Sanchez a price of about two-thirds of what they were worth for four of the horses. Sanchez just rolled his eyes and spat tobacco juice in the dust. As they haggled, Malbihn inched the price up bit by bit knowing full well what old Turtle Chops could make on them by running trail rides up in Wyoming near Jackson Hole where wealthy summer tourists didn't give two spits what they paid. Sanchez didn't budge but enjoyed annoying Malbihn.
"Okay Sanchez, you win, I guess I'll have to get some ponies elsewhere. What about the burros? Well heeled summer dudes ain't gonna want anything to do with them unless it's for a petting zoo for the kiddies. And all the while you'll have to feed 'em and haul all of them up there, or hire someone here to tend them."
Sanchez eyes brightened almost imperceptibly. When the bargaining was done, Malbihn allowed himself to "lose" and paid about twenty percent more than they were worth. Both men were happy. Sanchez got to beat Malbihn and in turn, since Karl had no time to loose, and plenty of chump change in his pocket, he was more than happy to get the three burros he needed. An hour later he returned with the trailer in tow and managed to get Sanchez to throw in a bale of hay and four old water buckets along with the burro's rope harnesses, beat up old blankets and wooden pack cradles for only fifty bucks more. Just to show there were no hard feelings Malbihn tossed the old man a pouch of Indian Red chewing tobacco as a gift toward future dealings as he drove away. He still had many miles ahead of him before he got to his chosen jumping off point.
AND FOUR TO GO
Karl Malbihn, the three sad eyed burros, and what he hoped would be more than adequate provisions, reached the starting point he selected after a ten-hour drive along a narrow, rock-strewn dirt road near Mount Poverty. Considering his pay and mission, the irony in the name was not lost on him. The last fifteen miles resembled a game trail or cow path. He already had to change two tires, and when the axle of the trailer gave out with a grinding snap, he quit. The burros were unloaded, loaded up with all his gear and they set out. Late May and June could already be scorching hot in southern Arizona but here in the uplands the nights were still chilly and daytime temperatures ranged from sixty to eighty degrees. Optimistically, he hoped to find his quarry before the deadly heat of high summer, but if he didn't he was prepared for that too. If need be, he and the burros would lay-up in the heat of the day and travel from dusk to dawn guided by the stars, compass and the usually bright moon.
His immediate goal was the location he recognized from Bayne's photos. Since he adjudged them as recent, he felt sure he could find some sign or spoor. The creature was obviously human and it's droppings, tracks and other signs would be easily differentiated from all of the various animals he was already familiar with. Besides, humans usually have at least temporary shelters unlike most wild beasts even if it was only a shallow cave at the bottom of a wash or an arroyo.
"This should be a cake walk," he thought as he was beginning the steep descent to a shallow valley, "this so called Kwi-ka-kikinee, is still just a friggin' myth. That thing in the photo is probably some half baked, half nuts, wanna be wild man. The wolf threw me off for a minute, but it's probably some cub he took in and raised it from wild. The real tip off was the paper or envelope stuck in his clothes. Prolly a photo of some gal that threw him over and made him crazy. Half-naked as he was, he also stays near where that photo was taken. But myth-man or wild man, I'll find him and get paid or I ain't Big Karl Malbihn."
It took a little over a week of grueling travel to reach the foot of the hills he recognized from the photo. He hadn't actually been this close before but had seen them from a distance with his high powered Bushnell binoculars. The ground was rougher and drier than it looked. Stunted wind bent junipers, scraggly chaparral, prickly pear cactus, half-dead cholla and an occasional patch of dry grass that gathered around deep washes was about all the vegetation to be seen. Animal life was more scarce, unless you counted scorpions, striped lizards, the occasional pack rat den and the inevitable rattlesnakes.
"This moron couldn't have picked a more god-forsaken spot to live," he the thought. "If you want to get away from it all, there's more hospitable places."
***
As Malbihn crossed a rocky flat, he smelled it before he saw it. The smoke was just a wisp, but the breeze carried the unmistakable odor of burning juniper. It was what he had been expecting for several days. Tethering the lead burro to a stump, he loosened his revolver in it's holster and pulled the shotgun from it's scabbard. Approaching the edge of the deep arroyo quietly he covered the last few yards on his hands and knees and peered over. What he saw was more or less what he was expecting. A faded and torn blanket was covering a slight indentation in the south side of the cliff side. The corners were attached to two gnarled poles offering some shade in addition to the north facing where the sun would normally only hit in high summer. The indent wasn't even deep enough to rightly be termed a cave and outside there was a small leather bad and a few other odds and ends he couldn't quite make out. He waited patiently for a quarter hour to survey the entire area and hopefully catch a glimpse of his quarry or possibly his wild wolf companion. Suddenly he felt a burning pain in his left leg, but made no outcry. He didn't even bother to kill the small scorpion as it skittered away, so intent was he on stealth. Besides, he had been stung countless times before. No big deal, really no worse than a wasp or yellow jacket sting and unlike those pests, a scorpion usually only pops you once unless it's caught inside you clothes. He remembered laughing when he saw an old James Bond movie where a scorpion was dropped down one of the bad guy's shirt and he died almost instantly.
"Damn, this was too easy," he thought. "The ten grand was fine but to wait for a whole year for the rest? Hell, Baynes should give it to me the minute I get back plus a bonus for speed." While this was passing through his mind, his eyes were picking out the most concealed approach down into the small canyon available. Surprise is always best. Chasing down this wild -man was not part of the game plan.
Picking his was down as stealthily as possible, Malbihn approached along the base of the arroyo with shotgun at the ready. As he clicked off the safety, wary of any wolf, he was caught completely off guard by what he heard next.
"I smelled you and your burros a long time ago white man. Heard you the minute you started down the arroyo. What took you so long, and what do you want of Go-Yat-Pei?"
Cautiously stepping in front of the blanket lean-to he saw a withered old Indian, probably Hopi or Navajo, sitting cross-legged cooking what looked mightily like a large lizard over a meager fire. Thoughts of no instant riches combined with the scorpion sting, put Malbihn in an uglier mood than normal.
"You Hopi or Navajo old man? And what the hell are you doing way out here?" Malbihn grumbled. "I haven't seen any tracks or sign for days, which way did you come from, or did you friggin' fly here?"
"I am Apache white man. Came up here from the White Mountains of the Mogollan rim country. I tired of watching my people and family turn into fat slaves to the casinos, the welfare of the tribal handouts and white man gifts and greed. I came here to die, but have lived here longer than I thought I would. It has been hard but I have managed. Hardship and solitude can bring peace to the heart and gifts to the mind. Why are you here white man? There is nothing in this land to profit you."
Already aggravated, the old man's continued and purposeful use and emphasis of 'white man' pushed him over to ugly, but he held his temper at bay, in case the old fart might be useful. He leaned the shotgun on a rock and pulled the envelope of photos from his travel pouch. Taking one from the envelope, he slowly approached and handed it to the ancient Apache.
"Have you seen this old man?" Malbihn paused to try to read the old man's expression. "I am looking for him, or it."
Pulling the photo close to his face, the old man squinted to see it better, but his expression remained blank for a moment. Then he smiled, revealing nearly toothless gums, and looked Malbihn squarely in the eye for a full minute.
Bowing his head, he dropped the photo in the sand and said, "Kwi-ka-kikinee." Looking up he continued, "I have seen Kwi-ka-kikinee twice in my long lifetime, white man. Once when still a teen in the Sitgreaves Forest far southeast of here, and once only but two to three months ago here in these wastelands." His deeply wrinkled face turned stern and he sat up straighter. "Kwi-ka-kikinee is not for one such as you to seek or find. He is immortal, and comes and goes where and when he pleases and with those he chooses to travel with. Beasts understand him more deeply than any human could. Lucky is the man who sees him and lives. I have been lucky twice. Go home white man to your civilized comforts, and your total lack of respect for things you cannot understand and never care to. Leave me to my mission in peace."
Malbihn's face grew dark as he picked up the photo from the ground and stepped back. Turning as though to leave he drew his revolver and turned back toward Go-Yat-Pei. The old Indian showed no sign of surprise or fear, and continued to sit impassively even as Malbihn pulled the trigger. The echo of the gunshot rang down the arroyo like the cry of a wolf.
"Your mission is accomplished you old bastard," Malbihn muttered under his breath.
***
He camped that night in the cover of the arroyo, making use of the old man's fire pit, if not his intended meal. "The crazy old coot might have had to resort to fillet of roast reptile, but I ain't so inclined," he thought sourly. "Ain't never gonna be that desperate." After his supper of beans and dried beef he tended to the burros who had been unnerved by the gunshot, did a quick rattlesnake check and slid into his sleeping bag.
Sleep normally came easily to him, as it often time does with people of little conscience, but not this night. The good news that he pondered was that the old Indian confirmed that he had seen the creature in the photo. His lecture left little doubt about that. Malbihn swore to himself that he would find and capture it. If the old guy saw it as a young man down in the White Mountains that must have been at least forty to sixty years ago depending on how old the geezer was. Since that time, that whole area had been populated by city folks coming mostly out of Phoenix and putting up swanky cabins. They were really houses, nicer by far than the beat up house he grew up in. Towns and business grew accordingly to accommodate them and the inevitable tourists. He would have set up shop somewhere between Payson and Alpine but couldn't afford the damn rent. He knew a few people who worked in the restaurants and stores there and they couldn't afford to live in town! Them, the teachers, cops, firefighters and other public employees were forced to live in the outlying areas. However, that meant that his quarry probably never went down that way anymore or it would have been seen and photographed countless times. That narrowed down the area he would have to search.
The other thing that kept him awake was killing the old Indian. Shooting the guy didn't bother him, but possibly getting caught did. "I had to go and loose my temper huh? But the shithead really pissed me off," he thought. As remote as the area was, there was always the chance some pain in the ass hiker, naturalist or other jerk would find the body. Then helicopters would come with rangers or cops, investigations made, and it would be possible that he could be implicated. Digging a grave deep enough to be unnoticed would take half a day of hump busting work in the hard and rocky ground. Malbihn had neither the patience nor the tools for the task. Besides, he would also have to erase and traces of the old man's campsite. Still pondering what to do he finally drifted off to sleep to the sound of the wind that mingled almost completely with the distant howl of wolves.

With the coming of dawn came a solution to his dilemma. Fortunately, he had shot the Indian smack dab in the forehead. Women he had been told once by a deputy sheriff usually committed suicide with a gun by shooting themselves in the chest, not wanting to mess up their faces. Men, on the other hand went for the sure thing "bullet straight to the old brain box." Malbihn wiped the gun and unspent cartridges clean and placed it in the dead man's hand. The revolver was unregistered, as are almost all guns in Arizona, and he had gotten it in trade anyway for a poker game debt from some dude he barely knew. The cardboard box of ammo he took from his pack and tossed into the back of the rocky niche along with the old man's other meager possessions. In a couple of days, the weather and scavengers would strip the corpse sufficiently so the fact that there was no powder residue on his head or hand wouldn't be noticed - or probably even looked for. Who the hell, would go to the trouble for an old Indian anyway?
Malbihn only had one regret. He liked the gun. Now he had only his shotgun and two boxes of shells, one for light game and one with heavy deer and predator loads. No more killing people he swore, no matter how much they ask for it.
***
As he was doing this, J. Morrison Baynes was sitting down to lunch at the Boulders Resort in Phoenix, more troubled by fudging his scorecard on the golf links than Malbihn was by killing a man. Later that day, he sought out his golfing companion and returned the hundred-dollar wager on the match.
***
NORTHWARD
September melded with October as Malbihn crossed the Utah border as planned. With the cooler air, his rapidly slipping sanity gained a brief footing. Even he was dimly aware of it. "Damn near went Looney Tunes down there. I betcha old Kwi-ka-kikinee don't like it neither in the heat. I'll find him up here for sure." This was to be one of his last rational thoughts.
The nights turned cold and his sun scolded skin and thinned blood complained bitterly. Thin blood notion is also a myth. Blood is blood regardless of climate. The science of the matter is that the human body's capillaries, blood vessels that can carry red blood cells only single file, slowly migrate closer to the skin to more easily shed heat in warmer climates and reverse on colder ones. Malbihn, having spent years in hot Arizona had lost his Wisconsin tolerance for frigid temperatures. A high school dropout, he knew little about the biology of the thing. All he knew was his sleeping bag or rather what was left of it gave him little relief. Then cold suddenly became winter.
When the late October blizzard struck with 50 mile per hour winds, hail, and snow it shredded what was left of Malbihn's rapidly diminishing sanity. He wrapped the torn remnants of his tent around his shoulders, the now useless sleeping bag dropped into the snow as he plodded doggedly on leaning into the biting wind desperately seeking some form of shelter. The sweat stained Australian bush hat he habitually wore for years flew from his head in the gale, skipping rapidly away across the snow-covered ground as if to say "goodbye." Freed from it's constraint, his now shoulder length hair whipped around his head sometimes almost blinding his from what little he could see in the blowing snow.
Reaching a cliff side in a shallow ravine that blocked the swirling wind he reached into his tattered backpack, took out and ate the last of the jerked burro meat. It was rancid by now but that didn't matter much. As he chewed, he saw the envelope with the photos of Kwi-ka-kikinee in the bottom of his pack. Malbihn stared at them with burning intensity. The money, Baynes and fame were long forgotten but not the images of his quarry and obsession. Looking up during a brief lull in the storm, he espied a small cave on the opposite side of the ravine. "Shelter," was the last utterance of human language that came from his cracked lips. The precious photos dropped from his numbed fingers into the snow. The backpack, now useless was left where it lay. Staggering and half-running he crossed over and peered into the cave. It was dark and just large enough for him to crawl in. As he did, he caught a faint odor of animal and more importantly, a faint feeling of warmth. About four feet in the cave ended. He could hear the rustling of twigs and the animal smell increased.
Finally, his stinging eyes adjusted to the gloom and he saw the cause of all three crude sensory observations. Wriggling in a hollow of twigs and brush were two bobcat cubs. Their eyes glowed cat-like as he approached but they were more curious than alarmed. Without thinking, Malbihn gathered them in his arms, curled up with them and shared the combined warmth of all three bodies. Within a few minutes, although there was some playful purring, sniffing and licking all three dozed off.
About an hour later, he was awaked by a spitting guttural hiss from the entrance of the cave. The mother bobcat had returned with it's prey, a small jackrabbit. The carcass was now at her feet, nourishment for her and her cubs forgotten, amidst the protective urge of the bobcat. Despite the size disparity between her and Malbihn, motherly instinct took over and she sprang to the attack. Grasping her by the throat with one hand, Malbihn ignored the rending claws as he alternately choked the life out of his antagonist while raining savage blows on her. Finally seizing a rock, he ended the battle with a skull-crunching blow to her head. Bleeding and exhausted, his scant covering further shredded, he retreated to the rear of the cave, curled up and fell asleep.
When he awoke, the cubs had nibbled at the jackrabbit and were whining and nuzzling their mother. Apparently, they felt no rancor toward Malbihn, because when they saw him moving they approached without fear and rubbed up against his thigh. Life and death struggles in the wild are accepted as natural by the creatures that are surrounded by this fact. Malbihn, now thoroughly a semi-savage beast himself, petted the cubs, then used a sharp rock to tear open the mother bobcat and proceeded to start eating her raw. As he did this, his long hair kept falling in front of his face, so he fashioned a thong from the bobcat's gut by twisting it and wrapped it around his forehead. The unlikely trio lived in the cave for over two months. Food was scarce but they managed to survive on packrats, mice, juniper berries, prickly pear cacti and edible roots that Malbihn dug up. The cubs, while not yet full-grown, had long since been weaned and one day when a rabbit den was discovered that he could not reach into, the cats burrowed in and killed the rabbits. When they emerged, one was holding a rabbit in his mouth and dropped it at Malbihn's feet.
MIGRATION
In early February during a warm spell, they began to migrate south. As they did, Malbihn stumbled across his discarded pack. Idly rummaging through it like the wild animal he now was, he accidently nicked a finger on his old hunting knife, once gleaming and sharp, now rusted and dull but still with a fairly sharp point. He stuffed it in the makeshift belt wrap he fashioned from what was left of the covering he still had from his tent. Two days later, he used to kill a small antelope, he ambushed from the branches of a small tree.
The cubs were now nearly full grown so the trio ate better and had little fear of being caught off guard by casual hikers, hunters or similar migrants. It would be hard to determine if they considered themselves friends or travel companions for convenience. Malbihn had few softer sentiments in his past life, but it was quite possible that the bobcats felt some familial affection for their surrogate parent. Nonetheless the worked well as a team and slept with each other every night. Hardship, privation and his now primitive life further deteriorated Malbihn's already primitive mentality. When he spoke it was in mono syllables and he continually babbled Kwi-ka-kikinee, Kwi-ka-kikinee, Kwi-ka-kikinee, as though to reinforce his obsession. The few occasional hikers he saw he shunned, possibly through fear, but more likely an aversion to civilized beings. Occasionally, "will find, no stop, get him," or "soon find," passed his lips. His communication with the twin bobcats was mostly by hissing sounds, high-pitched shrill cries or hand signals that they eventually all came to understand.
Only once, there was a confrontation with a fellow human being. They were approaching once again the hills of the Sanup plateau when they came upon a tiny ramshackle building nestled against some boulders adjacent to a shallow arroyo. A rusted hulk of a truck on flat tires stood drunkenly beside it. Malbihn saw the smoke from the cabin woodstove and was about to circle wide of the beat up shack when he saw it's occupant emerge to find a place to urinate. The man was nearly naked, long hair and beard covering most of his chest, neck and shoulders. Maibihn's eyes glittered and a surge of energy bust through his limbs. "Kwi-ka-kikinee," he muttered continually as he ran toward the shack. A clattering of a rock only thirty yards away was the first warning the hermit heard before Malbihn soon stood directly in front of him, hands clenching and releasing, glassy eyes now mere slits. Directly behind the frightening apparition Malbihn presented, stood the two nearly adult bobcats.
"Kwi-ka-kikinee, Kwi-ka-kikinee," Malbihn cried.
The man muttered, "What the hell," turned and bolted for the open door. Malbihn was right on his heels. Grabbing a shotgun the man tried to turn on his pursuer but it was ripped from his hands as he squeezed the trigger and the blast simply put another hole in the roof of the shack. Glowering at the prostrate man, Malbihn glanced around the interior. A filthy cot, woodstove, cook pots and a few other household possessions immediately convinced him that this wild man was not Kwi-ka-kikinee. As he bludgeoned the hermit to death with the butt of the shotgun, he muttered angrily, "not Kwi-ka-kikinee, me find, not him, you not Kwi-ka-kikinee!" The stock of the shotgun was splintered beyond redemption and Malbihn was heaving and sweating as he exited the cabin, not knowing he had just murdered Jasper Bemis, a harmless homeless hermit. It is quite possible that the untransformed Malbihn would have felt no more remorse than he did when he killed the old Indian sometime past in the distant recesses of his memory. The bobcats entered Jasper's remote retreat and contemplated a meal.
Malbihn and his wild companions continued their aimless migration south toward the Colorado River and the Hualapai Indian Reservation. The trails they followed seemed vaguely familiar to Malbihn, but his now jumbled mind did not know why nor did he care. There was no hurry. The bobcats gave it no thought either. Following a descending trail into the lower end of the canyon, they ascended near the Reservation Lodge where Malbihn had bid a dour adieu to his customers over a year before. Sheltering from sight in a thick stand of trees, he saw a group of well provided for hikers conversing with an Indian guide. Although he was in easy earshot of the conversation, he understood none of it. The Indian seem distantly familiar but that was all.
"Great trip, and worth every penny," one man said to Eah Walla the guide. I was on the same trip a year or two ago with your former employer Karl Malbihn. You drove my Land Rover down from Utah if I recall. He was a sour son of a bitch and your knowledge of the native culture is so much better. If you don't mind me asking, I notice you dress differently than your fellows and your name is very different too. Aren't you from this tribe?"
"You are very observant Mr. Harder. I married into the Hualapai Tribe four years ago. I am a Taos Pueblo Indian from New Mexico. I am named after my great grandfather whose name meant Corn Medicine. I was happy to be your guide and appreciate very much your generous gratuity. And your compliments. I will share the money with the drivers who should be here any minute. Are you staying at the lodge?"
"Yes, I'm also anxious to send an e-mail to an old friend of mine who has a business down in Peach Springs. How's the internet connection?"
"You should have no problem Mr. Harder, we upgraded the system just six months or so ago." replied Eah Walla. "Much better than smoke signals you will find." The two shared a chuckle and parted company.
***
The phone rang in George Caruthers real estate office in Peach Springs. He thought it unusual because it was on the landline he seldom used and was even considering giving up to save money. Cell phones were now the norm and he could hardly remember the last time the thing had actually rung, but he knew who the caller probably was.
"Have you had any word from or about Malbihn?" This was the immediate question after George said hello.
"Nothing, J.M. but I got an e-mail from Bill Harder at the Hualapai Reservation about an hour ago that you might be very interested in," George replied. "I'll forward it to you in a few minutes. It doesn't have anything to do with that surly Malbihn guy, but you'll want to see the attachments. Another supposed sighting of the Kwi-ka Kikanee myth you're so keen on."
***
Seventeen minutes later in Manhattan, J. Morrison Baynes downloaded the digital photos Caruthers forwarded and pulled them up immediately to view on the large flat screen monitor that sat on his mahogany desk.
"I suppose I wasted the money I spent on Malbihn," he mused aloud as he put on his glasses to view the photos. One of the black and white photos, copies of which he had supplied Malbihn, was framed and sitting next to his computer. Other than the fact that the photo on the screen was high-resolution digital color, complete with a time and date code, the images were very similar with a few small details of difference. The mountain background was the same as was the creature including the ragged canvas like clothing but there appeared to be a hilt of a knife protruding from it's waist band and instead of the lone wolf, a pair of bobcats stood next to him. One nearly touching his leg.
Baynes started to consider whom else he might engage to track the thing when his eye caught a detail his first glance missed. Zooming in on the photo, he saw a small tattoo on the creatures forearm. It was a silhouette looking much like the state of Wisconsin albeit with a ragged scar cutting across it. Below it were the letters KM/FU.
J. Morrison Baynes shut down his computer, went over to the credenza put some ice in a tall glass from an ice bucket and poured in a generous amount of expensive, unblended Scotch Whiskey.
****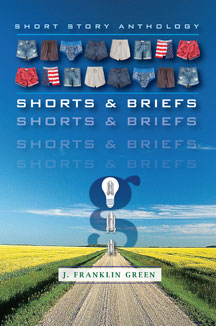 This story is the lead in Shorts and briefs.
PAPERBACK
KINDLE
SHORTS & BRIEFS

SHORT STORY ANTHOLOGY
Seven of my favorite short stories

-------------------------------
MALBIHN
Avarice and adventurers are dangerous companions. Hired to seek out a fortune and a myth, a rough-cut, unsavory man finds more than he bargained for in the Arizona wilderness.

SERGEANT BACHMAN
When traditional methods fail, a man searching for information about the father he never knew and listed as K.I.A. by the US Army turns to other means and embarks on a fascinating but frightening journey.

ALIEN HEREDITY
An erotically utopian life in an alien world goes into chaos for reasons beyond understanding or control with a heaping spoonful of Karma thrown in.

THE TAVERN
They say you can never go back and maybe you shouldn't. Thirty-two years after he left his hometown, Jonathan Moran returns to visit his dying father and spends a long afternoon driving down "memory lane" only to find a portal to the past and maybe a date with destiny.
AND THE MEEK SHALL INHERIT
A cosmic error is rectified on an infinitesimal planet in a tiny solar system on the fringe of a small galaxy. Some call it Earth.

THE LITTLEST SNOWMAN ON ROUTE 66
When her family moves from Ash Fork to Flagstaff,
little Wendee Goldman has a hard time adjusting until she accidently applies a little magic and finds a true friend.

STOWAWAY SUZI
Jonnie Halloran, a widower raising his 12 year old son Luke gets a big surprise when he returns to their ranch in Ash Fork.


266 pages