ROADSIDE 66
This website chronicles not only my cross country trip in May - June 2017, but also the development of the book "Roadside 66" which was largely inspired by it. See the maps in the far right column for details. I have used the best of the photos from the trip to illustrate both the story and the journey. All but two were taken by me - the California desert scene at top and the Coconino County Sheriff car at bottom.
The original concept for the book came about some months before the trip and was triggered by the numerous roadside memorials found along AZ routes 89 and 69 during frequent trips to my forty acre ranch in Ash Fork, AZ just above historic Route 66. The habit of many of my computers over the years to "do their own thing" also had a part in it.
The photo captions denote where the photos were taken along the route, but also have short excerpts from the book to show the connections to the story.


-----------------------------
ROADSIDE 66
SYNOPSIS:
Following the premature death of his wife, Earl Garnett, a professional writer, decides to drive across America. Along the way, he discovers the country, as he never imagined it.
Soon, cryptic writings appear on his laptop, often coinciding with roadside memorials that lead him into the darker sides of the road. Ultimately, he must decide whether or not to follow the prompting of these haunting passages and accept the consequences.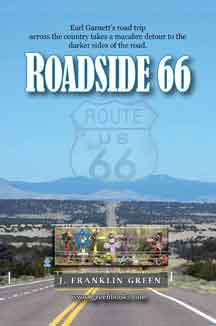 Note:
This is primarily a work of fiction
based on real places and in a few cases fictionalized real persons.
Many instances, places and observations are based on an actual road trip by the author.
©2017 – J. Franklin Green
A READERS REVIEWS:

I think this is one of the best mysteries I've ever read. From the first cryptic text which appears on Earl's laptop to the last, author John Green, builds the suspense until
a reader almost bursts with anticipation of what comes next.
This is one of those "can't put down" stories that makes one want to ignore daily tasks just to keep reading to the end. The descriptions of all the towns, cities, and countrysides along the famous Route 66 paint a picture of the country which a reader can easily visualize and identify with, especially because of the many excellent photos Mr. Green inserts periodically, giving us the exact locations of the events as they occur. This is one of those frame stories—many stories framed within Earl's cross country travels—which endears the characters to the reader and makes him care about their lives. Mr. Green's conclusion to Earl's dilemma doesn't disappoint either
with his trademark twist that pierces the heart of the reader in the last scene and leaves him wanting a sequel. This is one of those books I'm sure I'll read again. Highly recommended!
Carmen Baca 7/21 -
This book had many twist and turns and captivated the reader. It was hard to put down , you just had to know what was going to happen next! John has a way of keeping you guessing , I have many times been able to guess what was going to happen next in many books that I have read . But NOT this one ! I know that the book is mixed with many realities and fiction , and I couldn't always figure out which was which ! I also liked the settings in the book. great job.
Joseph Carpenter Dec 11, 2018
As an avid non-fiction reader, this book was a nice change of pace for me. This story starts out to be a later-in-life coming of age road trip after a devastating loss, yet turns into something so much more. Due the historical detail and vivid descriptions and photos of real stops on a cross-county trip, it satisfied my fact-based needs while adding a twinge of fantasy. It was reminiscent of two of my favorite TV series "Twilight Zone" and "Tales of the Unexpected" with its twists and turns some of which were expected and some completely unexpected. This is the element that made me unable to put it down. I read it over the course of two days and was completely immersed in it, even thinking about it when I didn't have the book in my hand. If I was not obliged for family activities, I would have read it straight through! Pick this one up and you won't put it down until your jaw drops as you read the last page. MUST READ.
Laurel Whitney Sep 20, 2018

BIOGRAPHY
John F. Green
author
John is originally from Guilderland, NY, but moved to Arizona in 1999 and is a retired graphic designer, advertising art director, copywriter and illustrator.

He spends half his time now at his 40 acre off the grid ranch in northern Arizona, occasionally joined by his lovely and forbearing wife Wendy. Many of his stories are written there during the quiet starry nights amid the howls of coyotes, hooting owls and things that go bump in the night.

-----------------------

"Like many authors, I draw from personal experiences and relationships but have deployed them in a fictionalized way. I have also asked several authors if they have ever liked or fallen in love with their fictional characters as I have. They are sometimes as real to me as some of the characters who are based on real people. I must confess to having fallen in love with one of the totally fictional persons. Who knows, you may too."

-----------------------

for the full story click onthe shield below.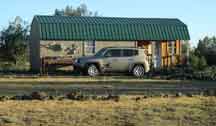 To contact John
Please e-mail to:
ccolleague@cox.net
or click the button below:
Most are available at:
Amazon/Kindle Bookstore

Complete list of books:
1. Young Readers:
- THE WIND IN THE JUNIPERS -
-LOLA, SAM & THE JACKALOPE-

2. Apocalyptic Fiction:
- THE ELEPHANT IN THE ROOM -

3. Science Fiction:
- ALIEN HEREDITY -
- AND THE MEEK SHALL INHERIT -

4. Historic Fiction:
- IMMORTAL
SERGEANT BACHMAN -

5. Recovery:
- BOOZE & BETRAYAL -

6. Non-Fiction:
- CONFESSIONS OF A GRAPHIC PROSTITUTE -

- EVERYTHING I NEEDED
TO KNOW ABOUT LIFE, I
LEARNED ON A
BASEBALL FIELD
(Well, Almost) -
- A BABY BOOMERS HISTORY OF GUILDERLAND -
7. Supernatural Suspense:
-ROADSIDE 66 -
-TOMMY POLITO'S TAVERN-
8. Anthology Short Stories
- SHORTS & BRIEFS-
------------------------

Note that these are all 6" x 9" paperbacks. That makes page counts seem smaller than small trade paperbacks.
---------------------------
John's best seller: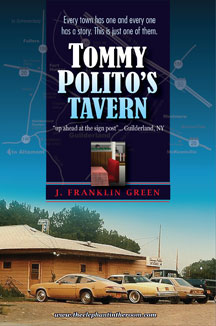 See more about the inspiration
for this book at this website:
A Baby Boomers History of Guilderland, NY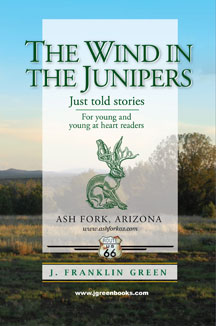 Written in Ash Fork, Arizona
to the howls of coyotes
and hooting owls.
For young and
young at-heart-readers.
See Ash Fork: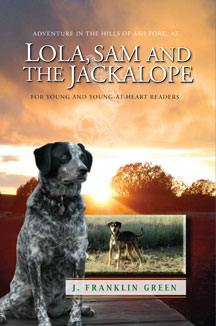 EXCLUSIVELY FROM LULU PRESS
CLICK HERE
LOLA, SAM AND THE JACKALOPE
Heartwarming tales of adventure, deep friendships and courage. For young and young-at-heart readers. (AGES 11-12 AND UP)

Two dogs, one from the city, the other from the wilds of Northern Arizona become best friends and share countless adventures.
After helping a mother jackrabbit they face grave danger and have an unexpected meeting with the mythical Jackalope.
As told from the dog Lola's point of view - Illustrated with real-life photos. Also contains a brief history of Ash Fork Arizona - "The other town too tough to die."
Expanded to Novella (short novel size) from the short story version contained in The Wind in the Junipers.
90 pages - ILLUSTRATED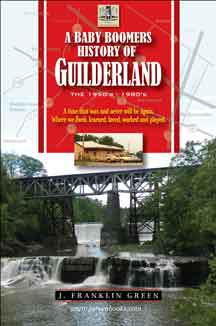 EXCLUSIVLY FROM
LULU PRESS CLICK HERE
Faded photographs,
covered now with lines and
creases, tickets torn if half,
memories of times
and places…
INTRODUCTION
The town of Guilderland has a long, rich history dating even before its incorporation in 1803. This well documented. For those interested, Images of America – Guilderland, NY by Alice Begley and Mary Ellen Johnson is a good read.

For the baby boomer generation however, the town holds a different history, not covered in any textbook. We did not consider it history at the time because we were living in it. Places we lived, loved, learned, worked and played, taken for granted, as though nothing would ever change. Those days from the 1950's to 1980's, were times of great change, not only in the culture of America, but also as reflected in the town.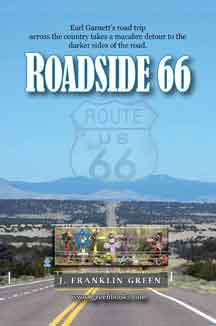 Dedicated to Carmen Baca,
author of El Hermano,
who encourages me and helps
me improve my craft.
Copyright 2017
J. Franklin Green

--------------------------

Available at:
Amazon/Kindle Bookstore

Paperback print versions
available from:
Lulu Publishing
All Kindle Editions:
CLICK HERE

J Franklin Green
9/20/17
Please e-mail any comments
or questions to:

EL HERMANO
by Carmen Baca
--------------------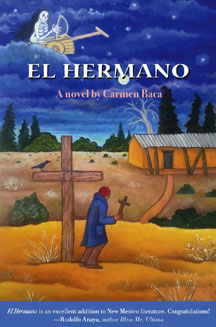 A unique coming of age story
set in the 1920's in a small rural village in northern New Mexico.
It paints a vivid and heart felt picture of not only the times and place but a culture now long gone. Five boys aspire to become Hermanos, religious leaders and elders of the village.
See it on Facebook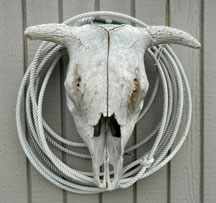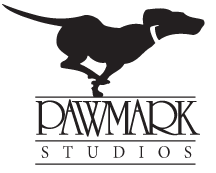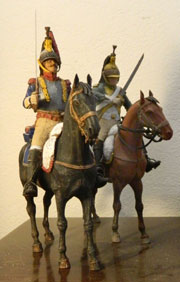 OLD GRINGO STUDIOS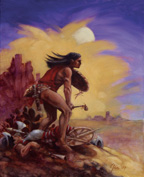 --------------------------

ADDITIONAL PHOTOS
OF THE AUTHOR -
A LONG TIME AGO
IN A GALAXIE
FAR, FAR AWAY: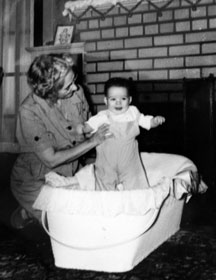 1953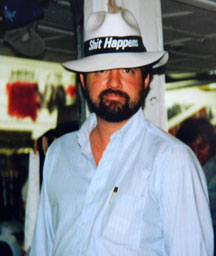 1987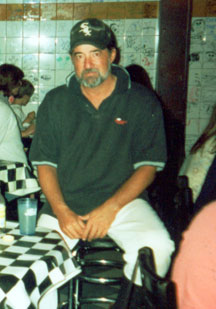 2002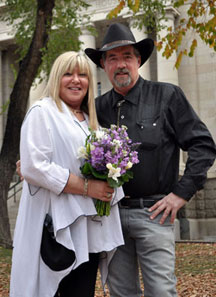 2011

The begining of the book - in the California desert
***
The barren, rocky landscape with its withered and sparse vegetation was eerily silent, but mocked them as it seemed to ask quietly why anyone would bother coming to visit. What little gusting wind there was, did little to diminish the heat. All it did was to occasionally produce a small dust devil that looked like a miniature tornado off in the distance.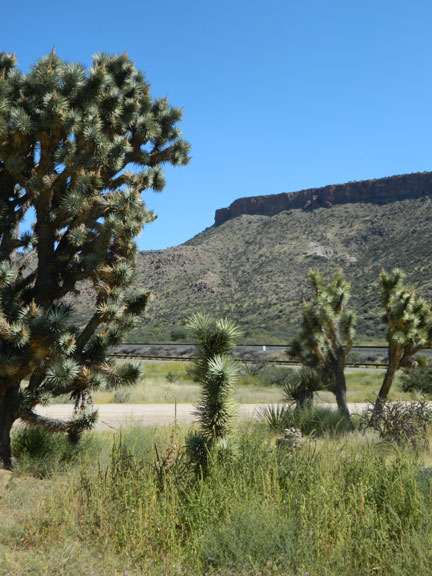 Valentine, AZ along Historic Route 66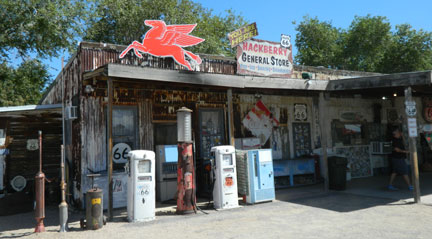 Hackbury, AZ along Historic Route 66

The ubiquitous Burma-Shave signs along Route 66
One series read:
T'WOULD BE MORE FUN
TO GO BY AIR
IF WE COULD PUT
THESE SIGNS UP THERE
BURMA-SHAVE. -
Looking west from route 66 near the dirt road to Earl Garnett's cabins.


The author's (and main character's) bunkhouse in Ash Fork - where the story ends.

Datil, NM along US 60 -
*****
William D. Monroe was a salesman for Western Farms Tractors, Harvesters and Accessories, Inc. He was good at his job and generally liked it. Hell, he even liked his boss, J.W. Goodson. The pay was good. The travel sucked. He was thinking about the last part when he checked into The Highland Motel on US Route 60 in New Mexico. He was also thinking about his kids, Bill Jr., Susan and Kevin. The thought of a roll in the hay with his wife Gretchen also crossed his mind. More than once.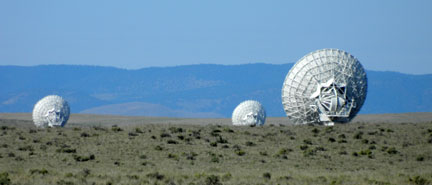 VLA (Very Large Array), NM along US 60 -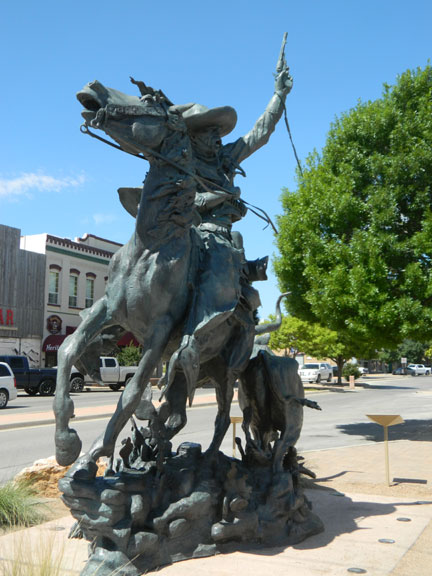 Artisia, NM
***
After walking the town snapping pictures and chatting with a few passers-byes, he checked into the "Artesia Vaquero's Motel," also one of the last family owned businesses left. The place was also clean, one story, and came with a modern plastic key card. After turning on the wheezy air conditioning unit, he brought in his gear piecemeal from the car, parked right in front of room 109. It had been a long day again but a pleasant one. Any time Earl could travel a new road, see a new landscape and chat with new people, it was a good day for him.

Texas on on US 180
***
West Texas amazed him, not only with its size and horizon-to-horizon vistas but also with a visually amazing juxtaposition of old, older and new sitting side by side. In the midst of endless farmland, were oil wells, the ubiquitous "ant-eaters," rising and falling pulling black gold from the earth. A little farther on, vast wind farms stretched out into the haze of the distance. In some cases, the oil wells sat beneath the wind turbines amidst the growing crops. Earl thought he could capture a photo of this odd site with all three together, but for some reason was reluctant to take the time. Hell, he knew the reason. The compelling need to move on made him press the gas pedal more urgently and the car sped on, chewing up the miles and spitting them out in its wake often at speeds pushing close to 90.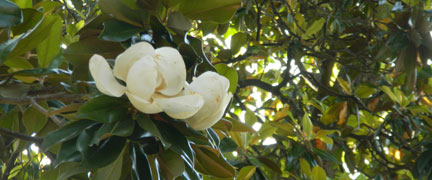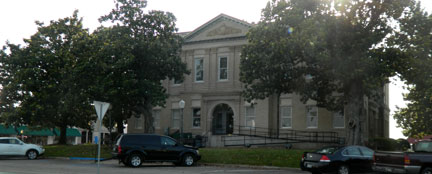 Magnolia, AR
***
Refreshed by a deep, untroubled night's sleep, no doubt provided by his exhaustion, Earl detoured slightly into the older part of Magnolia. Surely, it would be different from the ugly business street that led away out of town where the Days Inn resided. It was. A large, two-story, gray stone county courthouse stood in the middle of a circular street, surrounded by towering magnolia trees still flourishing their large, pinkish, creamy white blooms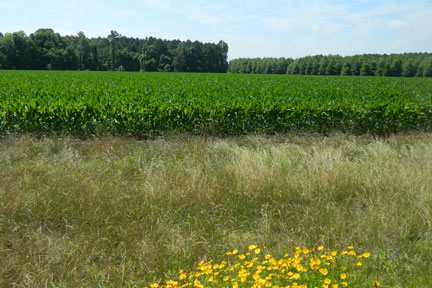 Arkansas 0n US 182
***
Vast fields of corn, already shoulder high, flanked by pine forests and stretches of brilliant yellow and purple wildflowers now filled his view.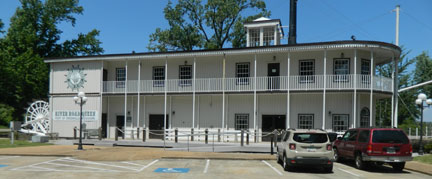 Across the Mississippi River for the first time.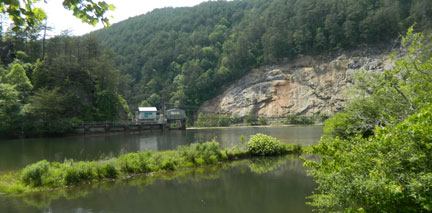 Ocoee Lake - North Carolina
***
Exiting Tennessee into North Carolina, now on US 64, he hit the small hamlet of Murphy in the late afternoon. He had calculated the time and distance wrong, mostly because he hadn't reckoned on the Ocoee valley.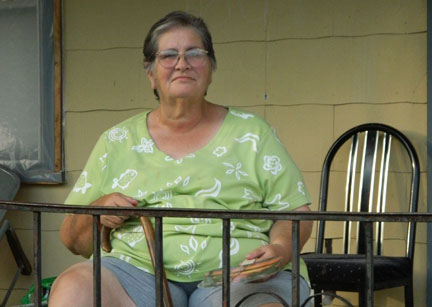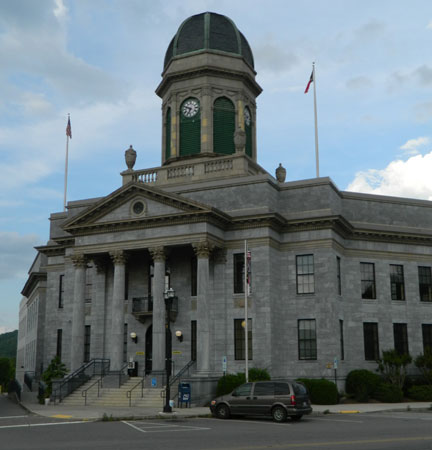 Murphy, North Carolina - Judy, pictured above, formed the basis of the character Mary Nightbird.

The Cherokee County courthouse introduces the character Kaylee Nightbird Coombs.
***
Mary, a portly three quarter Cherokee Indian, gave him the history of the old boarding house he was photographing and when she found out where Earl was from, she gave him much of her own history as well.
***
Kaylee Nightbird Coombs hated her mother more than she hated her mother's live-in boyfriend, Bert. Her birth father had been a total piece of shit, but Bert was worse.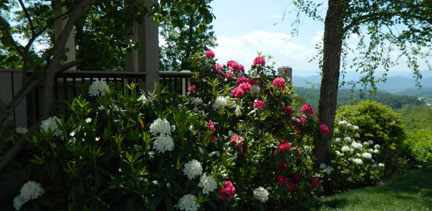 Across Interstate 25 through the Blue ridge mountains
***
He abandoned his plan of driving northeast on the Blue Ridge Parkway and instead, cut over to Interstate 81 via a connecting route, that although a freeway, offered little traffic and had rest areas for taking photographs.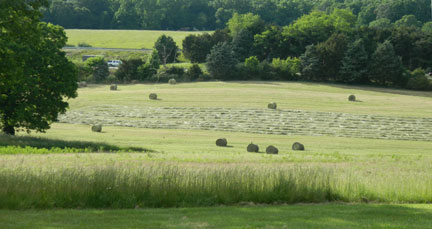 Lexington, VA
***
A large field of golden hay was across the road in front, and another was far below in back. Numerous large rolls of hay, already harvested, awaited transportation, and a green tractor, crawling ant-like in the distance, busily collecting more. Beyond this, in the haze of the distance, he could see the traffic on I-81.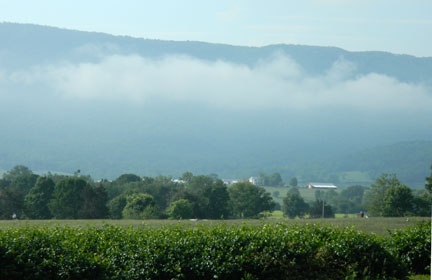 Along Interstate 81 after the rain... the blue ridge mountains shrouded in clouds.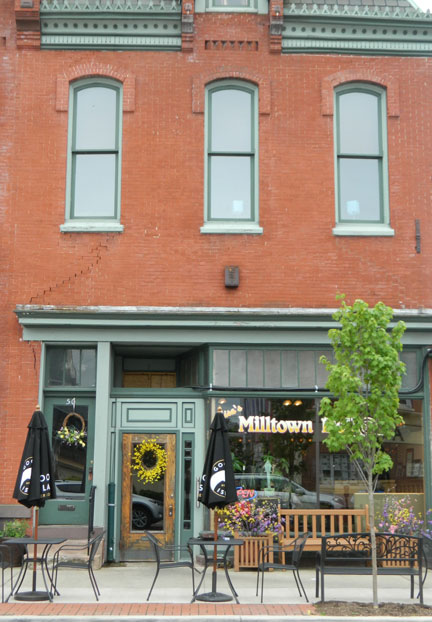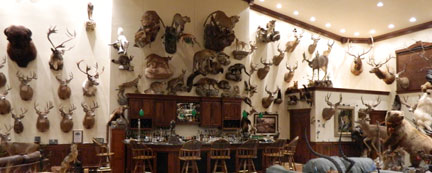 Milltown and Danville, Pennsylvania
***
An hour later, the business tour done, he said, "Come on Earl, and follow me back to the house. I called Torrie and warned her you were coming." Torrie was Pete's third wife. Earl had met wife number one, Katherine, the mother of Pete's three kids whom he'd married when he was only eighteen. Laura was his second -- a trophy wife -- slim, stylish and very attractive with blonde hair and beautiful green eyes. Torrie, Earl had not met, and was not pre-disposed to like her because of his fondness for Laura. Earl would find out soon enough, that Torrie was also a trophy wife, but of a much different sort. And, he soon would take an almost instant liking to her.
***
Earl wondered what sort of shanty his old pal lived in. When Pete finally turned into the long winding driveway, Earl was astounded by the immense home. The one adjoining it could be a large guesthouse and there were nearly as large outbuildings.
***
The following day, Earl found out what was in the building adjacent to the main house. It was a "trophy room." It was as though Earl had stepped into a small museum of natural history and a taxidermist's dream. Everything from elephants to emus, were in evidence, and everything in-between.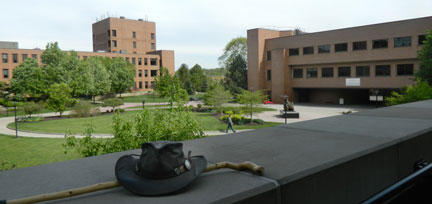 Rochester Institute of Technology - Henrietta, NY
***
Before he called his cousin Donna, one of two people he intended to visit while in town, he stopped by his alma mater. The campus had gotten bigger, but the students smaller. Despite his western attire that made him stick-out like a sore thumb, nobody took notice. Nor did those he approached pay much heed or ask an obvious question like, "Where are you from?" All seemed intent on scurrying along, either staring straight ahead or down at their various devices. He did not stay long.
***
"Jesus H Christ!" Earl said loudly as he sat at Donna's dining room table staring at the laptop.
"Anything wrong Earl?" Donna called out from the kitchen as she was doing the morning dishes.
He had been expecting an admonition about "taking the Lord's name in vain but replied, "Just a computer glitch."
"Oh, I can't stand those. It seems like my computer sometimes has a mind of its own," Donna replied.
A smile lit up his face. The irony of her response broke his focus on the passage. "If only she knew. She hasn't seen anything; she should try having this one," he thought with amusement.
***
Peggy Moriarity wanted to get pregnant as soon as possible. Jimmy Forbes in Lima was the intended collaborator. Hopefully, it would be tonight, if not, she would keep...

"Rather brief today," Earl whispered. Maybe the sucker has writer's block?" It then occurred to him that he may have interrupted the story by opening the file.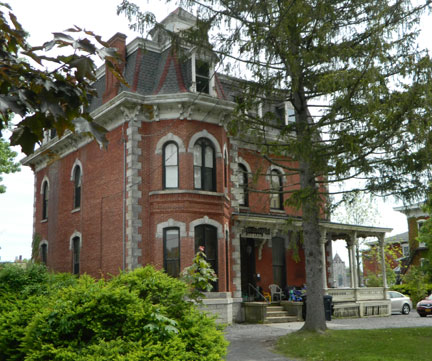 Along US route 20 in Skaneateles, NY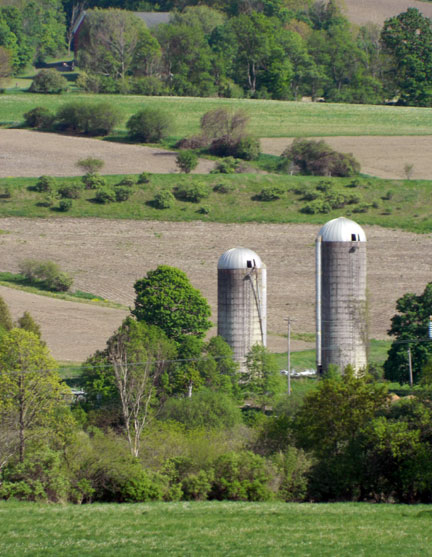 Western NY along US 20

Above - The main character Earl Garnett's brother's home. Incidentally also the author's brother's house!
BELOW:
Various location in Guilderland, NY where Earl Garnett stayed on for several days. Also the Author's hometown.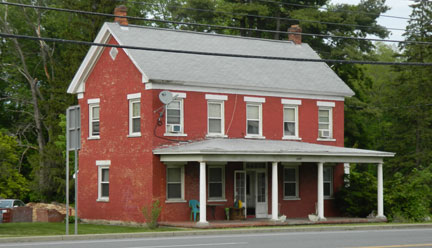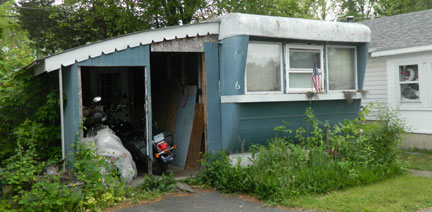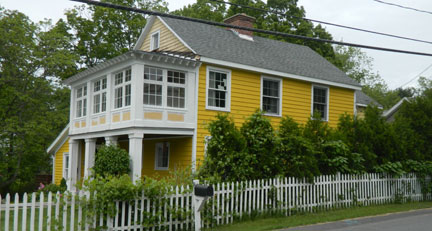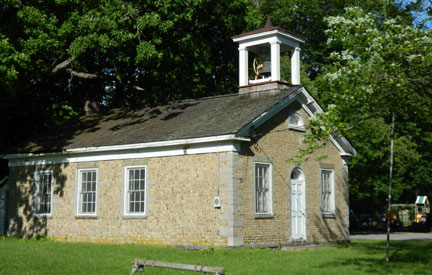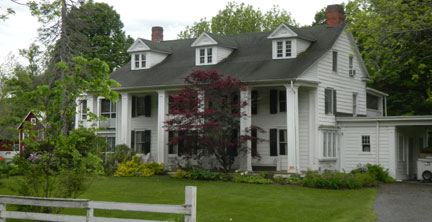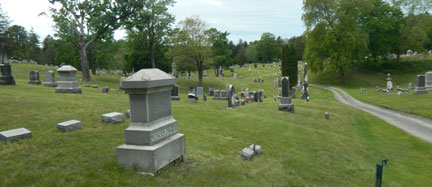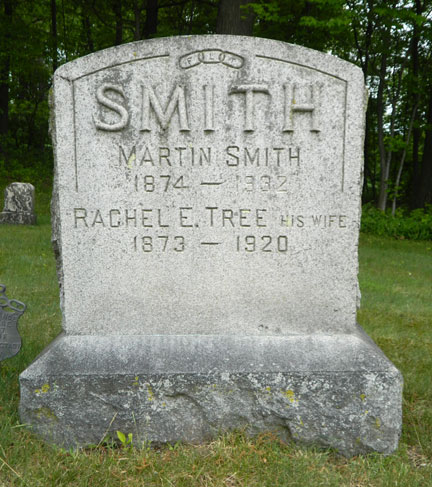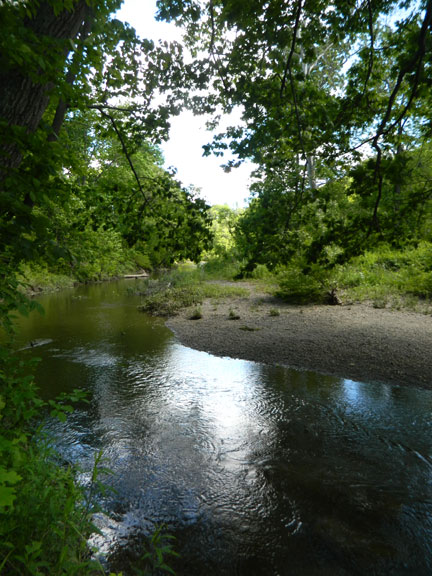 Above - The Norman's Kill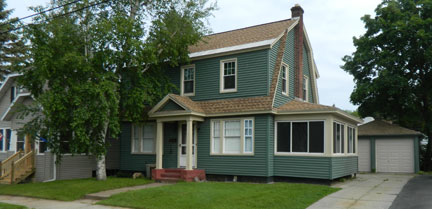 105 Third Street, Scotia, NY
***
His next stop was the old house on Third Street. It had seemed immense when he was little. Now it seemed small, wedged between other houses he remembered, including most of the families that inhabited them. Tiny front yards, detached garages, if any, and houses close behind on the next street over. Seeing a car parked out front, he hazarded a knock on the door. Earl if nothing else, was gregarious and his recent experiences on the road had made him even bolder.
***
Earl uttered a garbled goodbye to the librarians and dashed to the door and damn near fell down the steps as he raced to his car. He knew the location where the scene in the latest story took place and cursed him self for not realizing it. He had been there countless times in his life.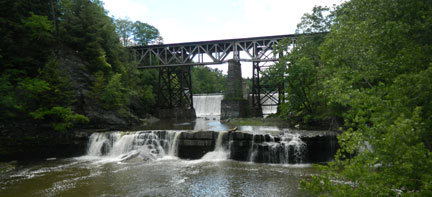 Speed limits bent badly. Normally a half hour drive, it took twenty minutes. As Earl turned down French's Mill Road off US 20, he soon came upon a large crowd of people and emergency vehicles. Police lights were blazing and an ambulance stood with open doors. A group of thirty or so people were straining to look over or around the bridge above what is known as French's Hollow. The hollow was a popular picnic area below the dam that contained the Watervliet Reservoir. A railroad trestle ran above it. Water flowed over the rocks below and formed pools that swimmers enjoyed before broken glass and other refuse made it risky to feet and health. Above the dam was a popular lover's lane. The bridge closed for lack of funds for repair or rather conflict of jurisdiction funding – whatever that means. Nonetheless, it remained a quiet picturesque sensory pleasure spot, with sounds of falling water, songbirds, and gentle winds whispering through trees.
***
The following morning an overweight, middle-aged woman in a jogging suit was out for her usual morning walk in the Hollow. She saw a small brass plate screwed into the rail that was obviously new. It read:
DENNIS RYNEMANN
I'm sorry I hesitated and you lost – E.G.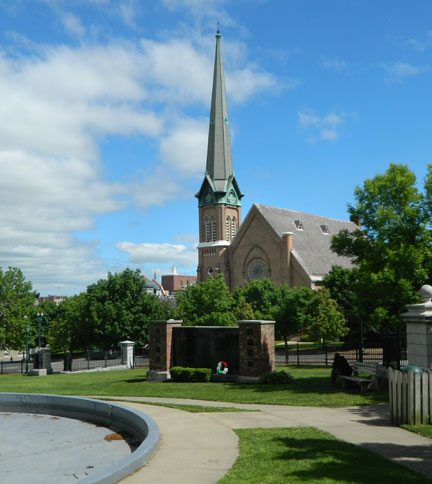 Schenectady, NY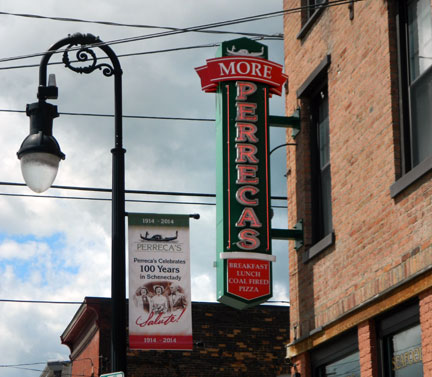 "Hey, Earl," came a voice he recognized instantly, "I saw your posts mentioning the cross country trip you were planning, but they stopped. I assumed you cancelled the trip or croaked or something, until a guy I know in Scotia said he talked with you the other day."
This opening was typical of his old pal. Donny seemed to know damn near everyone in Schenectady and many in Scotia or Guilderland as well.
"I swore off Facebook for a while, it was running my life just like the booze was," Earl replied. "Unlike the drinking, I may go back to it someday, but for now I have different things on my plate."
"How about you come to Perecca's for lunch today and tell me all about it," was Donny's instant and typically forthright reply. "My wife works there, so I always get a good seat and even better service! She's a great gal – a far cry from the ones we chased back in the day. You can tell me about all the new stuff on your plate, while we empty a couple."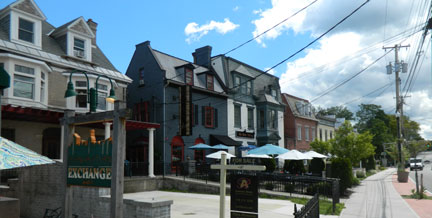 Little Italy in Schenectady.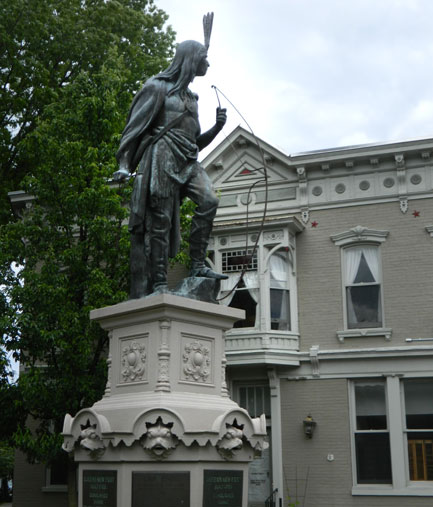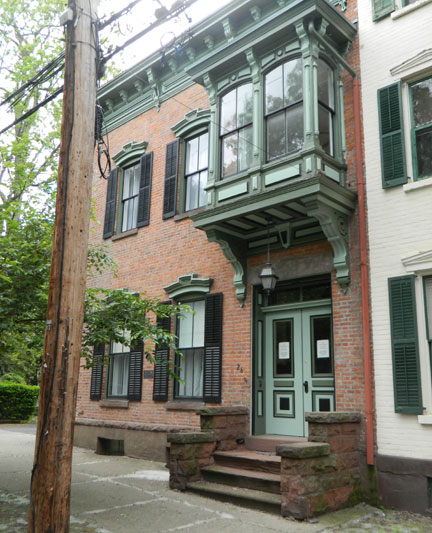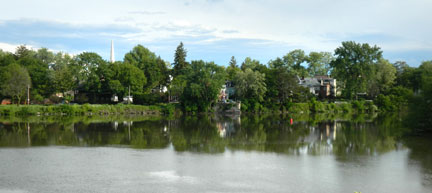 The Stockade district of Schenectady, NY Above as seen from Scotia, across the Mohawk River.
***
Toward the end of their foot tour, they wound up in the old Stockade district adjacent to the Mohawk River, with houses dating back as far as 1680. Coming up Washington Street, Earl observed what he thought was a sculpture of a turtle on the sidewalk and thought it an odd place for it. Suddenly it moved.
"It's heading for a date with the tire of a car or sledgehammer," Donny opined. "It's a young snapping turtle. Probably came up out of the river and nobody's favorite critter."
They weren't Earl's favorite either. He started to move on when he abruptly stopped, and turned back to the turtle. Not wanting to lose a finger, he picked it up carefully by both edges of its leathery shell. His thoughts had turned to Kaylee and Dennis. As he carried the turtle down to the bank of the river, he muttered, "This is one fate I can change."
Donny, who followed him down asked, "What the hell did that mean." Earl said nothing. He wasn't about to talk to Donny about the crazy shit he had experienced along the way. Although he firmly needed to talk with someone about it, he realized Donny wasn't that someone. Earl began to think that there was one, he could.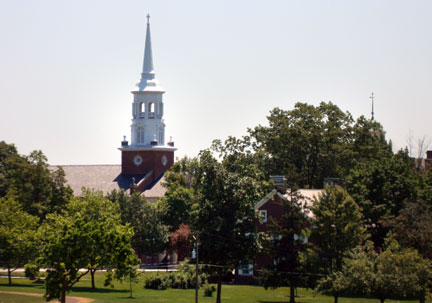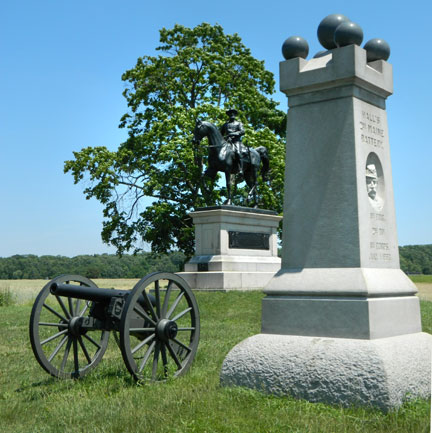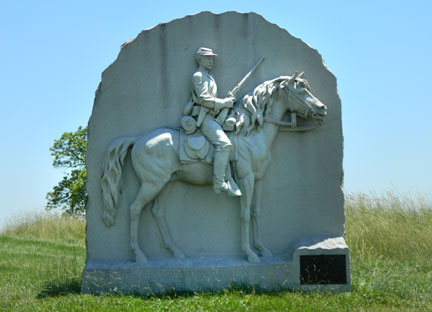 Gettysburg, PA along US Route 30.
***
US 30 was a slower pace, the eastern part passing through myriad towns, but as he neared Gettysburg, the countryside opened out and he proceeded much faster. Earl had been to the famous and well-preserved battle site several times and had no intention to stop, but US 30 passed right by an entry to the McPherson's Ridge Road, the site of a critical fight on the first day of a three-day battle, July 1-3, 1863. It had plenty of roadside memorials.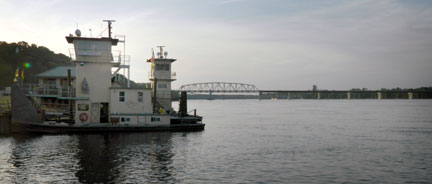 Hannibal, MO - Birthplace of Sam Clemens -
aka Mark Twain.
***
The lowering sun glistened on the small ripples in the vast expanse and silhouetted the bridge Earl had just recently crossed. Deep shadows made the far bank seem shrouded in mystery. The mass of the river exuded immense weight and irresistible power, despite its languid appearance.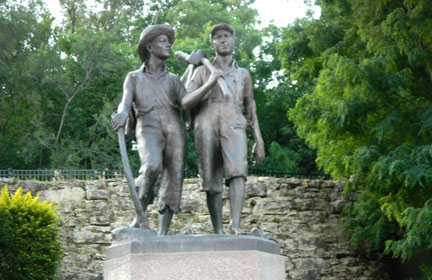 Tom Sawyer and Huck Finn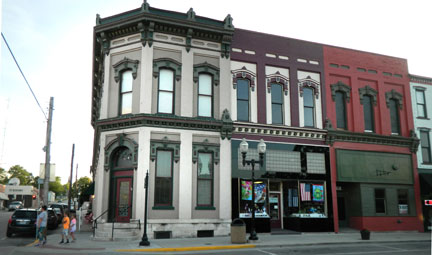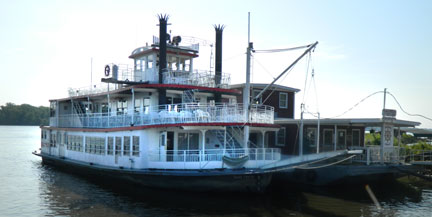 ***
It took only a few minutes to remove the body of Billy Rucker from the muddy waters of the Mississippi, but hours to process the scene. A score of police and emergency personnel were on the scene. The county medical examiner arrived soon after. Judging by the crowd of spectators, it might as well have been the infamous movie shark. Identifying the body didn't take long. It clearly was fresh, so decomposition and depredations by critters in the river had no time to work on it. Earl noted a man and woman together edge their way through the gawkers. When the nearest cop let them through, he assumed it was Ray and Erma. Earl was correct. Ray looked distraught, tears flowing like a summer tempest. Erma wore a face of stone.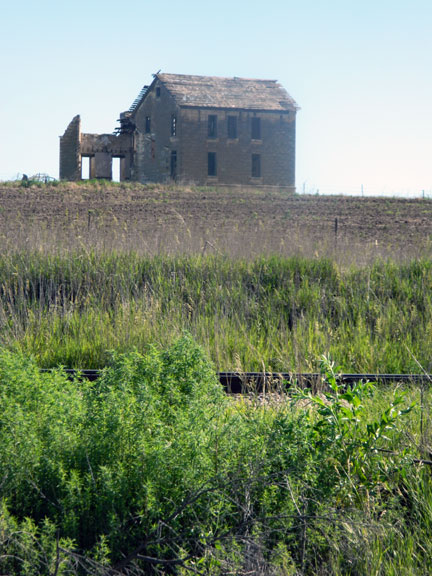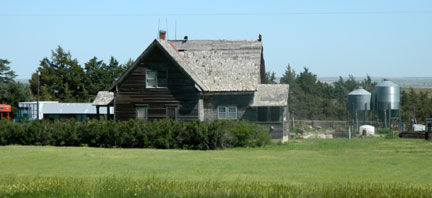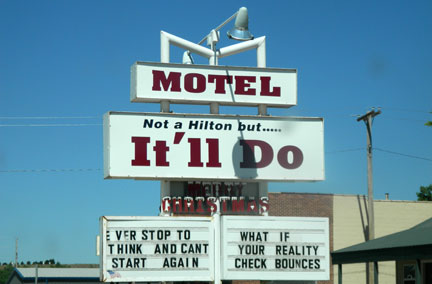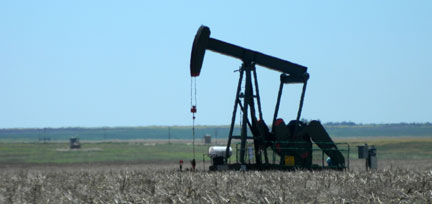 ABOVE: Crossing Kansas and into southern Colorado.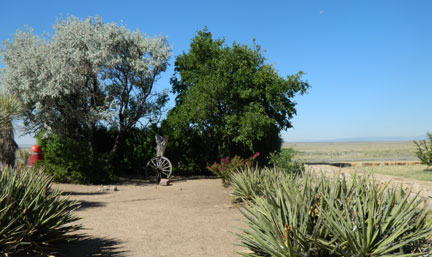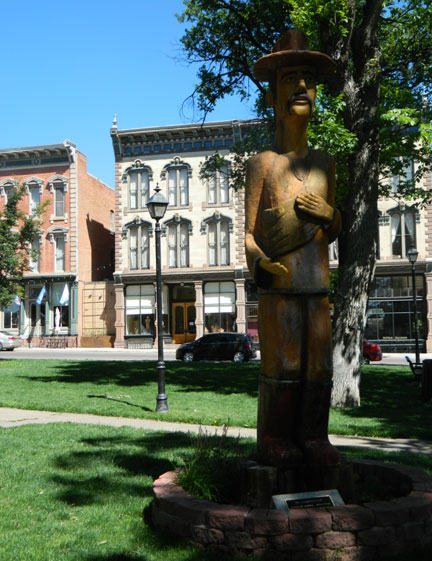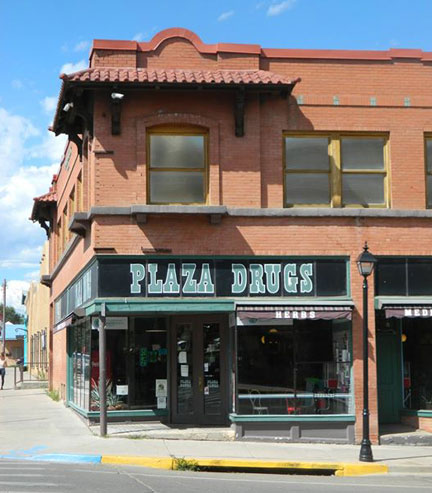 Las Vegas NM - Where Earl meets Carmen Baca.
***
As he reviewed the route he just drove that day, he noticed a county name in Colorado – Baca County. Omen or coincidence, what did it matter?
Earl called her in the morning. Carmen Baca, was also an author. They had met on Facebook, but not yet in person. They had hit it off, and helped each other whenever they could. Commiserating, encouraging each other, and exchanging ideas. Earl aided with some of her graphic design needs and Carmen had proofread and edited a couple of his stories. She wrote an excellent and widely successful novel. El Hermano, is a unique coming of age story, about an adolescent Hispanic boy and his friends; set in a small village in northern New Mexico, it is steeped in traditional Catholic traditions. All aspired to become Hermanos, a group of elders who held sacred and secret religious rites. She sounded surprised when she answered the call.
"Earl, I didn't expect to hear from you," Carmen said. "You posted your cross-country trip plans but haven't posted anything since. I assumed something came up and you cancelled."

"I hadn't posted anything at first, because I was trying to kick the Facebook habit. I think I told you once that if I spent as much time writing as messing around on-line I could out produce Stephen King or Tolstoy. Lately, I haven't posted because… -- well I've been afraid to." Earl considered how this sounded and continued, "No, I'm not being stalked or hacked or anything like that. It is hard to explain over the phone. I'll be heading your way tomorrow. I'm in Raton now, – I could be in Las Vegas by maybe ten or ten thirty in the morning. Can we meet some place in the old town plaza? I'll buy you an early lunch. There is something, I need you to read. A completely outside opinion might help.
They met at an ice cream shop on the plaza. After exchanging pleasantries, Earl got right to the point. While the laptop booted up, he gave Carmen a quick synopsis of the computer's peculiar habit of writing of its own accord. He also told her how he had followed the excerpts closely in his travels. At first, Carmen thought he was pulling her leg, but one look at the expression on his face dispelled that notion. She sat and read the entries in the "untitled" document for half an hour while sipping a root beer float.
When she looked up, she smiled and said, "Well, the computer writes a lot better than you do."
***
Earl thought of young Kaylee and understood. "Do you have any other thoughts, Carmen?" he asked.
"Yes, I think your father must have been a wise man. I read the semi-fictionalized story you wrote about his early life, you know. The admonition the laptop gave you, in addition to your father's quote, seems to have served you well over the past thirty years, both in your sobriety and your writing – 'to thine own self be true.'"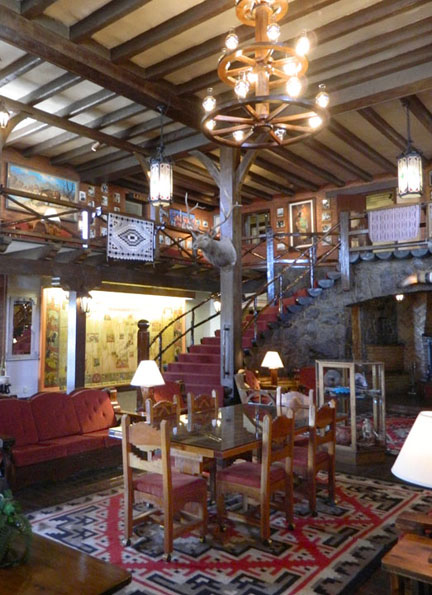 The El Rancho Hotel - Gallup, NM

***
Contrary to his usual choice of motels, Earl checked into the El Rancho. He had heard about it many times. El Rancho had been built in the late 1930's, by the brother of legendary producer, Darryl F. Zanuck, as a place for equally legendary stars, like Gary Cooper, Jean Harlow or John Wayne to stay while filming on location in places like Monument Valley. He paid more than his budget normally allowed, but he was not disappointed.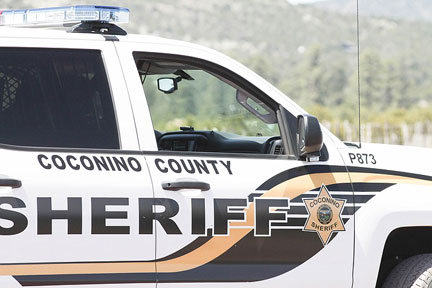 Coconino County Sheriff
***
He was surprised and frightened when the Coconino County Sheriff SUV pulled into the dooryard the next morning. Earl stepped out on the porch.
Sliding out of his cruiser, the officer said, "We've been looking for you." He produced his I.D., showing him to be Edgar Gonzales, Deputy Sheriff, for Coconino County, Arizona.
Earl's heart skipped several beats.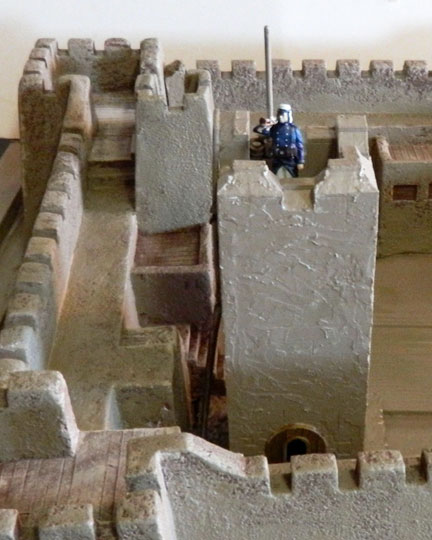 Sorry -
you will have to read the book to know what the above photo means...