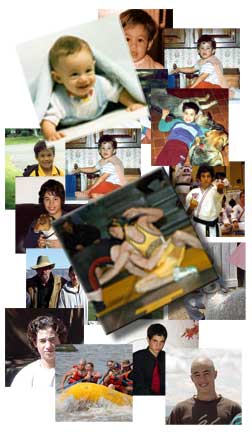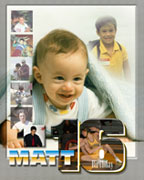 For this "not so sweet 16th" birthday web site, Mom and dad e-mailed the photos on the left plus a few other odds and ends. They also sent his nicknames and a message for the site in a Word file.
They requested that the wrestling photos be the central theme because of their son's pride and passion for the sport.
As part of the design we added a graphic to amplify the play on words they wrote.
To see the result, click on the see "sample button" or click here.
Mom requested that the baby photo be the main focus of the Collectible Print.
The bonus Collectible art comes high resolution 8"x 10" and includes a low resolution file suitable for e-mailing "fambly" and friends. Only photos from the web site will be used.
Birthday Website/Collectible Bonus Package:
Have a special birthday coming up?
Give a really unique gift for that special time.


Order a one page web site and get a "Creative Collectible" FREE with this package!


My
Wedding
Day
Special
Value
Package
TO ORDER:
Purchase a standard One Page Wonder,
e-mail for more information.