Does this look familiar? Make your precious memories easy to see.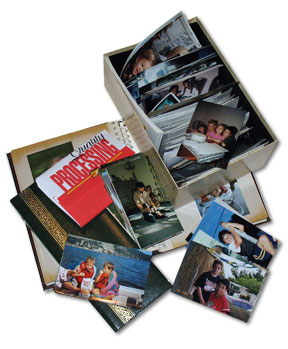 People are telling us that one of the most common things about our sites is that they are viewed almost daily. Especially those that show loved ones and/or the passage of time. At work or at home our sites have almost become a productivity snag!
This special package offers multiple slide shows, so all your memories are up front and easy to see.
In these two samples we show a simple one page format or a multiple page format with expanded shows.
To see the One Page Wonder sample, click on the see "sample button" or click here.

To see the multiple page sample, click on the "see sample button" or click here.

"Faded photographs, covered now with lines and creases"... envelopes of processed prints and shoe boxes full of memories. But how often can you take the time to sort through and look at them?
Your Family My Fambly Album online
Put your most treasured family memories at your finger tips on line and have them one click away anytime, anywhere you have access to a computer.


My
Wedding
Day
Special
Value
Package
Bar/Bat Mitzvah Special Package
Birthday Special Package
TO ORDER:
Purchase a standard One Page Wonder, 2-3 Page Value Site or for really big fun, select "Works on the Web".
e-mail us for ordering information

E-mail your photos and text along with whatever general instructions or requests you may have and just put "Fambly Album Package " in the heading of your e-mail.
For prompt service, we suggest you gather your photos and information for e-mailing before ordering.
Don't have digital photos of every thing you want to include? Click here for help.