FREE
How to
protect your
Fambly History
CLICK HERE

Just what
is a family?
Sure, it's your parents, kids, grandparents, siblings and such, but it can also be your "fambly" of choice: friends, sports teams, a hobby club, church group, work group or any group of people who have a common bond.
And what all "famblies" have in common is news and memories they want to share with each other. myfambly.com offers affordable services to help you share, commemorate and preserve those bonds.





Fast, Affordable Custom Websites
for you and your family.


We design, host and update sites from photos and text provided by you. No need to do-it-yourself. No hidden costs. Very affordable single page solutions to multiple page extravaganzas e-mail links and more. To see options, costs, samples and to find out more, click here.

- professionally done
- great for gifts
- easy to order
Creative Collectibles are custom designed art pieces from your provided photos. Suitable for framing, enlarging or e-mailing. Great for gifts or to add to the "fambly archives!" To see options, costs, samples and to find out more, click here.

Old photos that have been damaged by time (or your three year old's crayons) or new photos that need a professional retouchers touch! Wrinkles, cracks and watermarks eliminated or reduced. Wrinkles, blemishes, objects, backgrounds or ex-significant others that need to be eliminated. Have the image scanned and sent to us, or send us the photo and we will do it all. To see costs and samples and find out more, click here.
- quantity discounts
- special effects options
- titles & captions
- preserve and digitize family heirlooms
e-mail me for more
information and pricing.
just click
HERE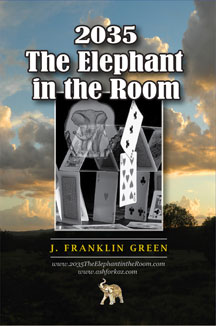 New book written
and published by John Green
available on the net at:
www.2035 The Elephant in the Room

also available at:
Amazon/Kindle Bookstore

Paperback print version
available from:
Lulu Publishing

Pay by check, money order or Paypal