Copy-write 2016 Creative Colleagues.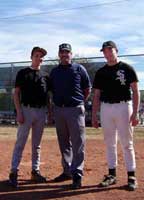 ALEX AND REED WITH "BROOKLYN" STEVE WHO UMPIRED MANY GAMES FOR THESE TWO GUYS!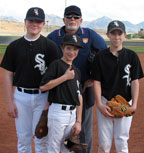 Carson, Umpire Rich, Jacob and Zach. Rich umpired a LOT of games with this trio at La Casa field.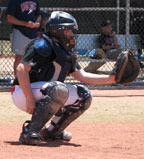 JASON HYMAN ONE OF OUR BEST CATCHERS.

JACE DETRICK WAS WITH US FOR 6 SEASONS.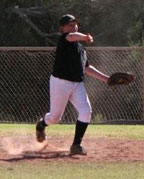 PETER "considerableness" BOOTH AT 1B.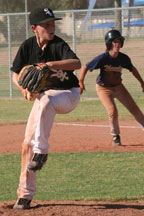 TROY "Laslo" NELSON IN HIS 5TH SEASON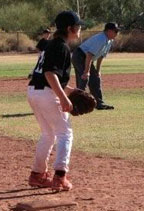 CARSON "KIT" WEBER IN HIS 5TH SEASON WORKS HARDER ON HIS GAME THAN NEARLY ANY OTHER PLAYER WE EVER HAD.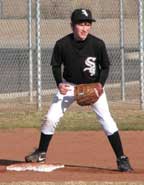 JASON "CHILI PEPPERS" HATCH. LED THE TEAM WITH HITS AND HUSTLE.




HARTLEY RODIE IN THE 5TH OF HIS 8 SEASONS WITH US.




AUSTIN THOMPSON


TYLER GREEN CATCHING IN ONE OF HIS 11 SEASONS WITH US.


DAN GRAIF SHOWING GOOD FORM AND TYLER'S SHINGUARDS



BIG SCOTT MARKS DELIVERING HIS AWSOME "DUECE"


CRAIG KINNEBURG, ONE OF OUR BEST PITCHERS, PROBABLY SENDING A "CHURVE" BALL.


DAVID EVANS, WHO ALONG WITH TYLER, NAMED THE TEAM BLACK SOX. ONE OF THE ORIGINAL TEAM HERE IN HIS 5TH OF 6 SEASONS.


ALEX HILL APPROACHES A GROUND BALL AT SHORT


DANNY MAST DOING WHAT HE DID BEST... SCORING RUNS.



"SAMMY" TWO SOX IS OUR MASCOT STARTING WITH THE 2005 FALL SEASON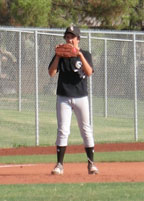 TYLER MASCARO - SOLID AT THE CORNER AND AT THE PLATE, HERE IN HIS 3RD SEASON.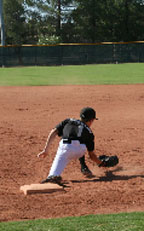 JAKE CHOULET IN HIS 10TH SEASON WITH US.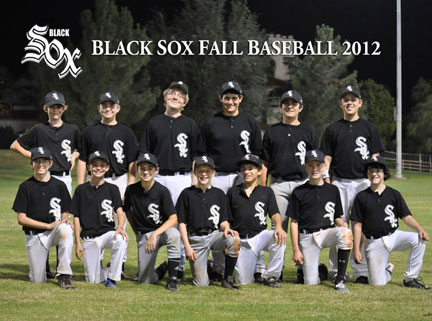 The last Sox: FRONT ROW LEFT TO RIGHT: JAKE GRACE, NOAH SELF, BRANDON PASTERNAK, ALEC MILLER, MARCO MEDINA, ALEC SCHILLINGBERG, JUSTIN DUBNOW - BACK ROW: NATE MARINE, QUINN DISCERNI, WILL WRIGHT, MAX MILLER, JAKE BENGER, JUSTIN SMITH.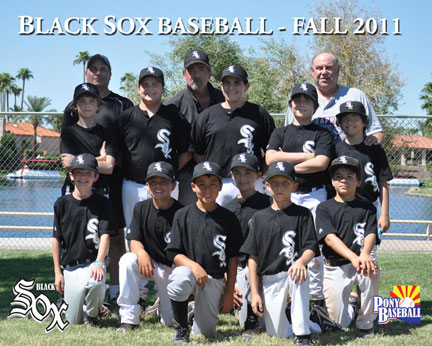 Fall 2011 - 11-12's BRONCO FRONT ROW L/R - Noah Self, Gavin McLaughlin, Garrett McLaughlin, Brandon Pasternak, Luke Marine, Marco Medina. BACK ROW: Nate Marine, Paul Bukoskey, Max Miller, Jake Benger, Justin Dubnow COACHES: Brent Benger, John Green, Gary Miller (missing: Tanner Scheub & Coach Tom Scheub - see team page for pics - click here)

We did not post a stellar record, BUT, everyone grew in their skills and made new friends. This is an entirely new team drawn entirely from the league waiting list! Few knew each other going into the season but all have signed on to continue through winter 2012. Defense was not our forte , but pitching was great and this is one of our best hitting teams ever!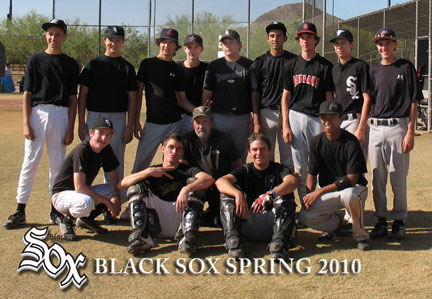 Spring 2010 - 15-18's FRONT ROW L/R - Jace Detrick, Matt Benac, Paul Carrick, Julian Carlos (team captain) - BACK ROW L/R - Byan Guise, "Cricker" Dodsall, Joe Piazza, Charlie Kassoff, Nick McKirgan, Osacar Alvarez, Loren Jones, Zach Scott, Ryan Nowak - (missing: Josh Fenn, Ethan Blake and Travis Ford)

The guys at times put in some awsome plays any pro player would be proud of. Everyone had their moments especially Charlie's 7 inning 4 run win over the best team in the division! Nick was nearly unstoppable at the plate hitting over .800 for the season. Julian was the guy that put he team together - I told him: "Build it and I will come" - He did and I am glad I did!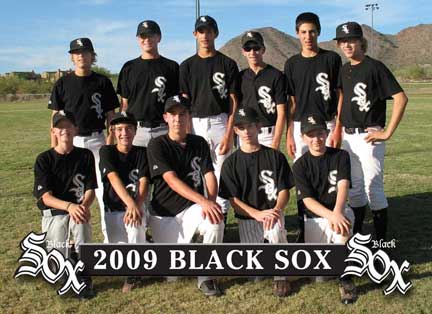 Fall 2009 - FRONT ROW L/R - Josh Schulz, Jake Choulet, Zach Scott, Travis Ford, Ethan Blake - BACK ROW L/R - Rylee Lane, Zach "Seeds" Schulz, Joey Marranca, Jordan Cohen, Anthony Marranca, Reece Lane. (Our reserve players absent: Stephen Gergal, Peter Bradley)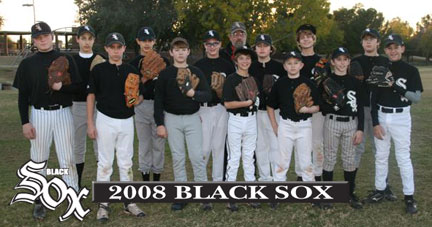 FALL-WINTER 2008-2009 Pony 13-14 - one of our best groups with veterans of 3 years and welcome new players! - (left to right): Carson Weber (co-Captain), Anthony Marranca, Zach Scott (co-Captain), Joey Marranca, Stephen Gergal, Matt Raines, Coach Green, Jacob Choulet, Matt Littleton, Ethan Blake, Devin Kolesar, Travis Ford, Zach Shulz, Jordan Cohen. This group is the core of the Spring 2009 team.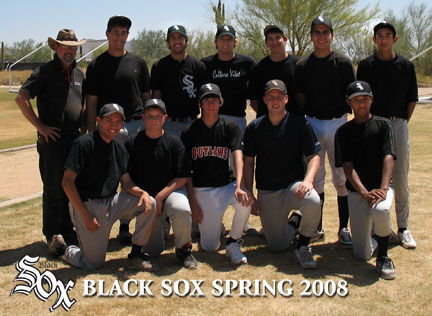 Black Sox 16-18 Spring 2008: (back row) Coach Green, Travis Tummond, Jesse Bonet-Castillo, Kevin Tantillo, Eric Kline, Luis Corzo, Oscar Alvarez, (front row) Joe Economides, Nick McGirgan, Loren Jones, Ricky Bondeson, Julian Carlos. (missing): Jordan Detrick, Andrew Swenson, CJ Johnson, Ryan Chopco, Hunter Johnson. One of the most fun teams I ever had with many seniors playing for the last time. A rag tag bunch in mismatched uniforms, we played against high school teams and finished at .500!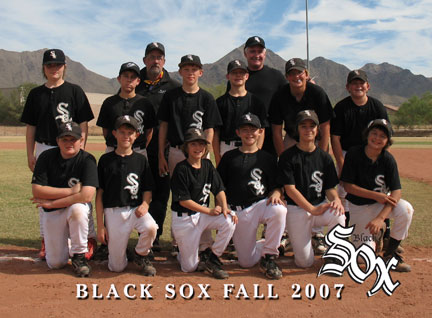 2007 FALL/WINTER PONY 13 - FRONT ROW: L-R - HOLDEN HUFF, JIMMY CASEBOLT, JACOB CHOULET, STEPHEN GERGAL, TYLER STATHIS, SEAN NEYLON. 2ND ROW: CARSON WEBER, ZACH SCOTT, TROY NELSON, BRAD BOSKIE, HARRISON FOX, PETER BOOTH. BACK ROW: COACH GREEN, COACH NEYLON (MISSING: ERIC FITCH)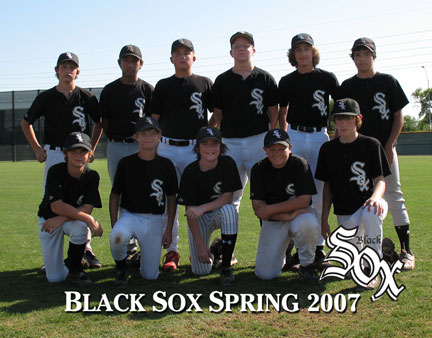 2007 SPRING PONY 13-14 TEAM. (BACK ROW L-R) AC, JULIAN CARLOS, ADAM BOWERS, NICK PLIMPTON, NOLAN BIDESE, TYLER MASCARO. FRONT ROW L-R) TOMMY MOSER, BLAKE LODGE, JACE DETRICK, JASON HYMAN, JASON HATCH.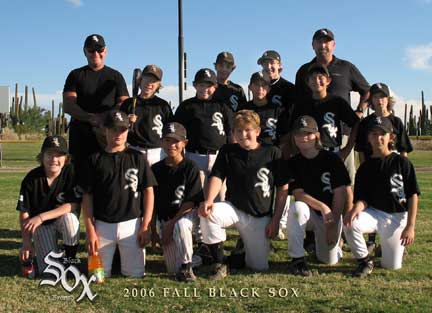 2006-7 FALL/WINTER BRONCO 11-12 (FROM BACK TO FRONT L-R) COACH NEYLON, COACH TYLER, COACH ANDREW, COACH DETRICK, TROY NELSON, JASON HYMAN, ZACH SCOTT, SEAN NEYLON, JACOB CHOULET, JACE DETRICK, MIKE SCARNATO, MICHAEL KIM, HOLDEN HUFF, CARSON WEBER, TYLER STATHIS (MISSING: PETER BOOTH AND JASON HATCH)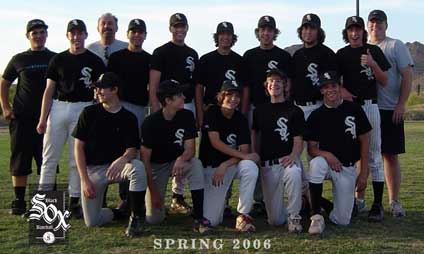 THE SPRING 2006 15-18 YEAR OLDS ENJOYED WHAT WAS FOR SOME THEIR FINAL SEASON AS THEY ARE COLLEGE BOUND FOR FALL OF 2006. IN MANY WAYS ALSO A REUNION SEASON WITH ALL BUT 3 GUYS HAVING BEEN WITH US ANYWHERE FROM 2 TO 15 SEASONS. FRONT ROW (L-R) STEVE O'HAIR 3, TYLER GREEN 11, CONNOR SWENSON 3, ANDREW SWENSON 6, ALEX HILL 8, (BACK ROW L-R) CHASE, REED PLIMPTON 15, COACH DETRICK, LUIS CORZO 1, DEAN SYMANCYK 2, JESSE CASTILLO-BONETT 1, RICKY BONDESON 2, SCOTT MARKS 5, JORDAN DETRICK 8 AND COACH SWENSON. (ABSENT: NAT MOSELY) The number following the name represents the number of seasons with us!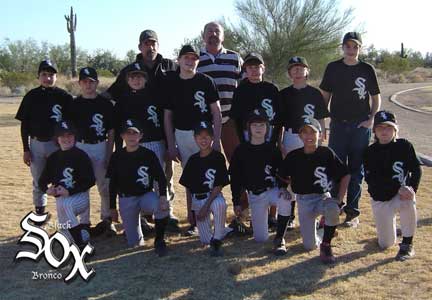 THE WINTER BRONCO 2006 11-12 TEAM ALONG WITH VETERANS OF THE FALL 2005 TEAM WAS THE NUCLEUS OF THE BLACK SOX GOING FORWARD TO FALL 2006 AND BEYOND. (FRONT ROW L-R): JACE DETRICK, ZACH SCOTT, MICHAEL KIM, EAMONN McINTYRE, ALEX SANCHEZ, CARSON WEBER, (BACK ROW L-R): TYLER MASCARO, MICHAEL SCARNATO, HOLDEN HUFF, COACH GREEN, NICK PLIMPTON, COACH DETRICK, ERIC FITCH, TROY NELSON, COACH TYLER GREEN.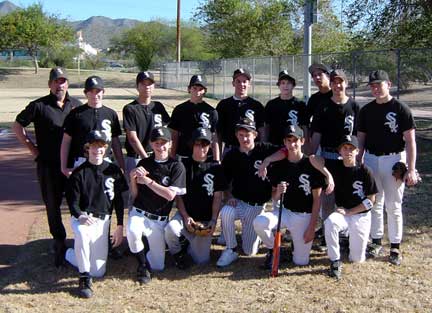 THE 2005 WINTER COLT 14-16 TEAM WAS ONE OF THE BEST WE EVER FIELDED. (BACK ROW) COACH GREEN, STEVEN O'HAIR, BRENNAN KLINE, SEAN BERKLEY, ALEX HILL, KYLE MILLER, MITCH HATHAWAY, STEVEN HENGLEFELT, REED PLIMPTON (FRONT ROW): ANDREW SWENSON, JORDAN DETRICK, ERIC BERKLEY, JACK BOLAND, MIKE LONG, JARROD ELLINGER.
__________________________________________________
Black Sox Hall of Fame

Reed Plimpton - my old warhorse of 15 seasons who lead the team with arm and bat in almost every category for 5 years. Inspired all with his work ethic. Reed rarely hit below .400 and in the Fall of 2005 started to help coach the younger group! Fall of 2007 University of Pennsylvania on full scholarship for acedemics.
Tyler Green - played every position on the field over 11 seasons including the toughest one: coach's son. Hit .667 in the 2004 Best of the West Tournament. Helps coach the Bronco team. U of A Senior 2009.
Alex Hill - the toughest, fastest and most competitive player I have ever had. Fiercely did his best at all times and led the team always in runs scored. Despite his tough exterior, Alex did a remarkable job coaching and instructing the younger 2005 fall team.
Brennan Kline - solid outfielder turned great 1st baseman and hit some of the hardest hit balls I have ever seen. US Marines 2008.
Steve Henglefelt - by far the hardest working most improved player I have ever had. Always cheerful, never complained about ANYTHING for over 6 seasons! U of A Sophomore fall 2009.
Jordan Detrick - solid veteran outfielder who had a knack of coming up with the big hit at the right time. With us for many seasons. Hit over .400 in his last season with us! NAU bound spring of 2008.
Mike Long - by far the most versatile player I have ever seen. Quietly excelled at every position and at the plate as well. A true team player for 5 seasons.
Andrew Swenson - quiet and unassuming and the best set-up relief guy I ever had (including Tyler Green and David Evans). Helped coach the younger Sox for 6 seasons. U of A bound fall 2008.
David Evans - One of the originals, knew baseball better than any other player. Top notch set-up reliever. He and Tyler named the team and were co-captains in 2002.
Scott Marks - "Scotty" to us. Big, easy going and one of our finest hitters and pitchers. A talented musician and singer/performer too. A top student who will attending ASU on a full acedemic ride. Senior 2009.
Craig Kinneburg - The finest pitcher we ever had. Dazzled everyone with his "churve". Easy to coach and a friend to everyone. Went on to pitch Varsity at Notre Dame Prep.
Joe Pascale - a leader on the field with arm and bat. His character and leadership made him our first team Captain.
Austin Thompson - awsome hitter and by far and away the most gregarious player I ever had.
Danny Mast - speed was his specialty, scoring runs, stealing bases and running down fly balls.
Jarrod Ellinger - able to turn up the competitive notch in games, was our leadoff man, shortstop and center fielder for 4 seasons.
Jack Boland - Our 3 hole hitter for 4 seasons, doubles were his specialty. His will to win led us to many.
Hartley Rodie - "Mr. Utility" played every position on the field except catcher in his 8 seasons with us. Sophomore ASU 2008.
Michael Scarnato - "Tex" Our 3 season 3 hole hitter in Bronco who hit well above .400 in his last two seasons.
Nick Plimpton - One of the most powerful hitters we ever had at any age. Three season batting average above .500.
Jason "Chili Peppers" Hatch - Led the team in hitting and hustle. Team Captain spring 2007. Hit .591 in winter of 2007 and scored 21 runs in only 12 games!
Carson Weber - Hardest working player we ever had. Rarely hit under .300 and one of our best pitchers. Control was his specialty and bases on balls were very rare. Veteran of 8 seasons.
Steven O'Hair - One of our best pitchers over several different seasons. Showed up frequently to help with the younger Sox. Worked hard, overcame being cut from the Horizon team in his sophomore year and finished his last two years with Horizon including the 2008 State Champions.
Jesse Bonet-Castillo - Flat out the best center fielder we have ever had and one of the best I have ever seen. A great guy to have one the team and a leader by example. PVCC bound for Fall 2008
Travis Tummond - Played with us on the original AZ team (Yankees/Braves) and returned for a final season with us in 2008. Hit the ball hard and long and often. Great catcher too.
Zach Scott - Although shortstop was his best position, he was one of only two Black Sox to play every position on the field with us at one time or another. Team Captain whose hitting was rarely below .300 and more often well above. MVP, Batting Champion and Gold Gloves, he earned almost every team award.
Jake Choulet - Perennial gold glove winner in the outfield and first base. Ten season veteran makes him 3rd on the all time list for being with us the longest.
Jordan Cohen - Best second basemen we ever had and teamed up with Zach Scott for many a double play and solid defense up the middle. Solid hitter and one season batting champion too!
Julian Carlos - started with us at 14 and ended at 18 when he did the unheard of and made the incredibly competitive Horizon HS team in his senior year! - Team Captain for the last 3 season and in my absence during the personally catostrophic 2010 season took over the team management too. Great pitcher and first rate outfielder too! Leader of the "core four" playersof the older teams.
Loren Jones - "Brooks" for his stellar defence at third base in the best tradition of Brooks Robinson. Part of the "core four".
Nick McKirgan - aka "boog" for his awsome hitting including batting over .800 in the spring 2010 season. Also part of the "core four" Easy going and reliable.
Oscar Alvarez - the 4th part of the "core four" - steady starting pitcher, incredible center fielder and always a sold hitter and base stealer.
Zach Schulz - aka "seeds" because of his penchant for sunflower seeds - was never without them. One of our best pitchers ever whose great strength was control and coolness on the mound in any situation.
Peter Bradley (Booth) - "Considerableness" played for many seasons and always hit the ball "considerbly" hard and long. Played great first base too! Big hearted and a friend to all - especially me.
Ethan Blake - was not the biggest guy on the squad but he had big skills, a big heart and a strong arm. Fast and tough he even played up with the 16-18 squad when he was only 14! Pitched and played every position in the field well too.
Travis Ford - one of our few team captains. Played amazing center field and was our lead off hitter for several seasons. High batting average and good foot speed kept him there!
Max Miller - Team captain led by example and played almost every posion on the field.
Jakob Benger - One of the best hitters we have ever had. Never under .300, he hit .500 to lead the team in batting in 2011.


================================
Josh Schulz - in memorium - only played with us one season (fall 2009) but earned "most improved player" award. He was taken from us all too soon by meningitus in 2011.
"Mrs. Coach" - Cathy Green who passed away on October 25th, 2010. Spent a lot of time alone so I could spend time with the team. Many of our "baseball family" attended her memorial services. And I thank you all for your support!
-------------------------------------------------------------
We have been blessed over the years also with a great group of parents, grandparents, siblings and extended family, supporting not only their own kids, but everyone else on the team. Whether it is car pools, encouragement, partys or sleep overs, many family friendships have been forged over baseball fields and in some cases a relocating transition has been eased as kids and parents alike find new friends and welcome hearts.
We have had winnings seasons and losing seasons in the W/L column, but these guys are all winners to me. Some have gone on to play high school ball, most are good or excellent students. All have grown and matured. My measure is always "would I want to be friends with these guys if I was their age?" and the answer is almost invariably yes!
It is my greatest priveledge and honor to be entrusted with your most valuable assets week after week, year after year. I thank you for your trust.
They keep me young at heart!
Coach Green